What does the future hold for the global bandwidth market?
The two most predictable trends are persistent demand growth and price erosion. Beyond that, operators will have to navigate the major uncertainties of an evolving sector and a global pandemic.
Here are a few of the key trends from our Global Bandwidth Research Service, among many, that will affect the long-haul capacity market in the coming years.
Expanding Frontiers by a Limited Group
Content providers' cable investments have largely focused on trans-Atlantic, trans-Pacific, U.S.-Latin American, and intra-Asian routes thus far. As their demand for capacity continues to grow across all routes, other paths are likely to draw content provider-backed cable construction in the near future. Google's Equiano cable is the first foray into Africa by a content provider. Content providers already have new investments in the pipeline focused on India-Singapore and India-Europe.
Map of Content Provider Submarine Cable Investments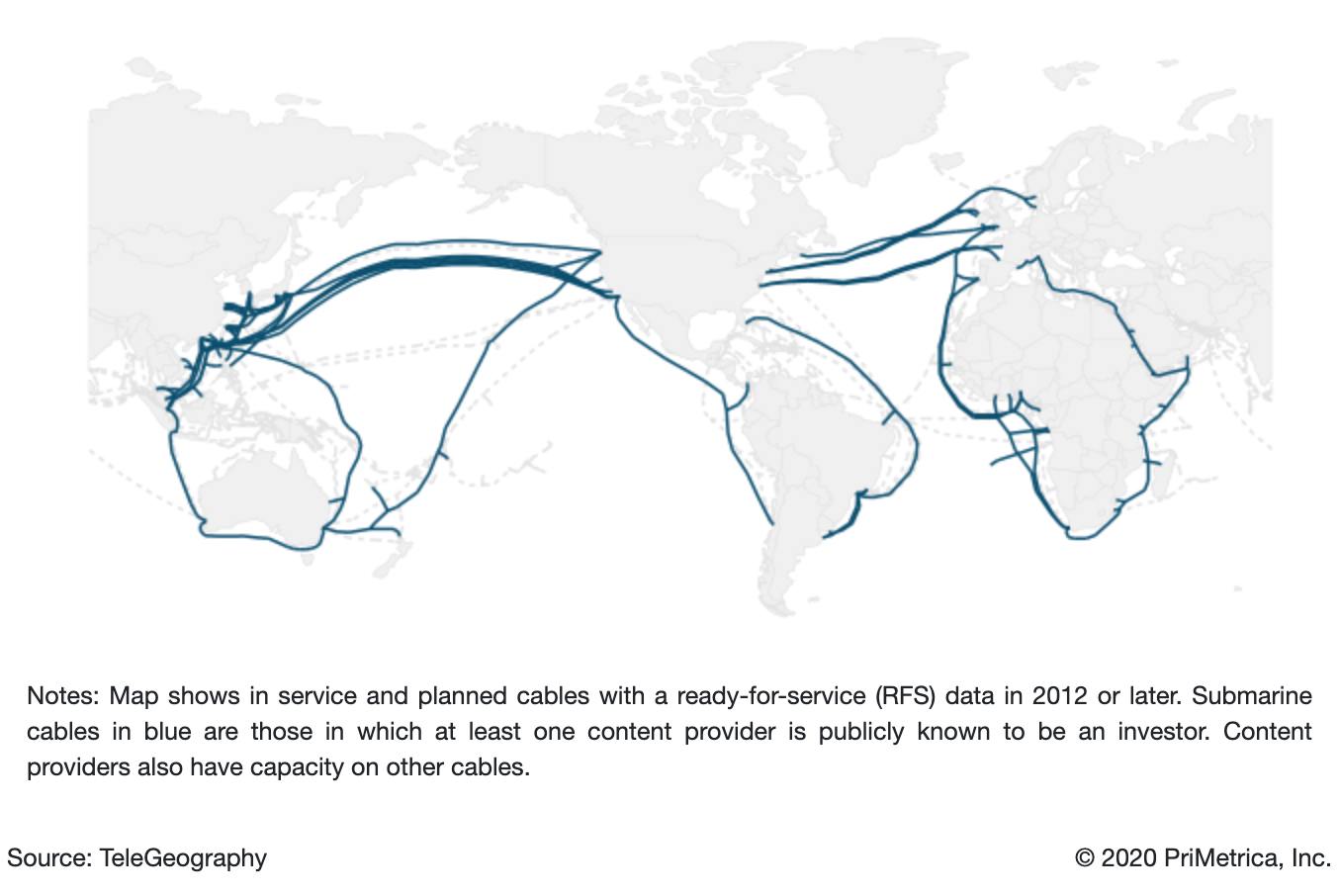 Will new content providers join the existing few that are investing in submarine cable systems? Our assessment is that a very limited group of players will continue to dominate content and cloud network demand. It seems unlikely that many more such networks, even the Chinese content providers, will reach sufficient demand volumes in the near-term to warrant their emergence as full-fledged owners of subsea cables.
Rising Utilization
Even with the introduction of many new cables and the ability of older cables to accommodate more capacity, the growth of potential capacity has failed to outpace that of lit capacity. As you can see in the figure below, this means that the percentage of capacity that is lit on major routes has begun to rise.
Percentage of Potential Capacity that is Lit on Major Submarine Cable Routes
The U.S.-Latin America and Europe-Sub-Saharan Africa routes are exceptions to this trend.
On the U.S.-Latin America route, three high-capacity cables were recently launched, decreasing the proportion of lit capacity relative to total potential capacity.
On the Europe-Sub-Saharan Africa route, several cables have had major upgrades, and no additional lit capacity has been required in recent years. But this situation is only temporary, as operators are now planning additional upgrades and new cables.
Looming Cable Retirements
Cables are engineered to have a minimum design life of 25 years, but what really matters is the economic life.
The economic life depends on a cable's revenue exceeding the costs. If the costs of operating a cable continually exceed the revenues, an operator may consider retiring the cable. This could happen well before a cable runs of out capacity. Many older cables laid in the late 1990s and early 2000s may soon become candidates for retirement. In fact, TAT-14, a trans-Atlantic cable laid in 2001, will be retired in December 2020.
Wholesale Market Challenges
The rapid expansion of major content providers' networks has caused a shift in the global wholesale market. Google, Microsoft, Facebook, and Amazon are investing in new submarine cable systems and purchasing fiber pairs. This removes huge sources of demand from the addressable wholesale market. On the other hand, it drives scale to establish new submarine cable systems and lower overall unit costs.
Google, Microsoft, Facebook, and Amazon are investing in new submarine cable systems and purchasing fiber pairs. This removes huge sources of demand from the addressable wholesale market.
Many submarine cable business models actually rely on this capital injection, allocating fiber and network shares to the largest consumers to cover initial investment costs, then selling remaining shares of system capacity as managed wholesale bandwidth.
COVID-19's Impact
With all that said, we have to acknowledge the impact that the COVID-19 pandemic could have on the future supply of international capacity. Temporary cable factory closures combined with delays in permitting and marine installation are likely to hamper the deployment of many planned cables. In the interim, the existing cables will play a pivotal role in ensuring resilient global connectivity until more cables can be added.
While facing likely delays in new cable deployments, operators are also addressing a surge in network demand in the midst of the outbreak. Operators have felt this increase most acutely in the access networks (both fixed and mobile), but all parts of global networks are experiencing accelerated growth due to the pandemic. Operators are taking steps to respond to this traffic growth by managing traffic throughput, boosting cache deployments, accelerating capacity upgrades, and addressing network maintenance needs.
The full impact of COVID-19 on networks is evolving rapidly. We'll continue to monitor the developments and provide updates. We're collating our analysis and news about the pandemic's impact on networks on a rolling basis on our dedicated State of the Network: Updates on COVID-19 site.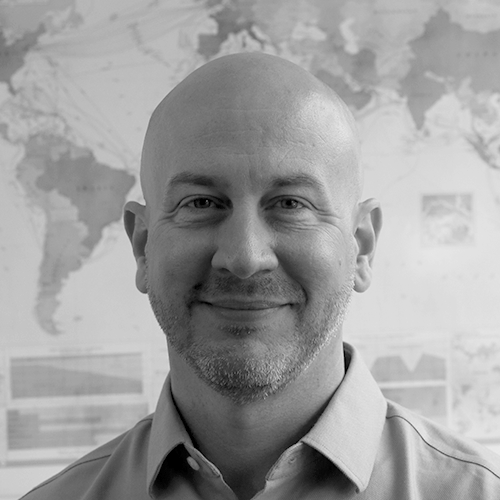 Alan Mauldin is a Research Director at TeleGeography. He manages the company's infrastructure research group, focusing primarily on submarine cables, terrestrial networks, international Internet infrastructure, and bandwidth demand modeling. He also advises clients with due diligence analysis, feasibility studies, and business plan development for projects around the world. Alan speaks frequently about the global network industry at a wide range of conferences, including PTC, Submarine Networks World, and SubOptic.