After a tumultuous 2020, in which the COVID-19 pandemic caused internet traffic patterns to shift and volumes to surge, network operators have returned to the business of adding bandwidth and engineering their traffic in a more measured manner.
Based on hard survey data gathered from dozens of regional and global network operators around the world, we conclude that COVID-related expansion of internet traffic and bandwidth was largely a one-off phenomenon, and that the trends we had been observing in recent years have reasserted themselves.
International internet bandwidth and traffic growth had been gradually slowing in recent years, but they remain brisk. IP transit price declines continue globally, but significant regional differences in prices remain.
Internet Traffic and Capacity
Global internet bandwidth rose by 23% in 2023, continuing to fall from the pandemic-generated bump of 2020. Total international internet bandwidth now stands at 1,217 Tbps, representing a 4-year CAGR of 28%.
Total international internet bandwidth now stands at 1,217 Tbps, representing a 4-year CAGR of 28%.
COVID bump aside, the pace of growth has been slowing. Still, we do see a near tripling of bandwidth since 2019.
Strong capacity growth is visible across regions. Once again, Africa experienced the most rapid growth of international internet bandwidth, growing at a compound annual rate of 44% between 2019 and 2023. Asia is a distant second, rising at a 32% compound annual rate over the same period.
International Internet Bandwidth Growth by Region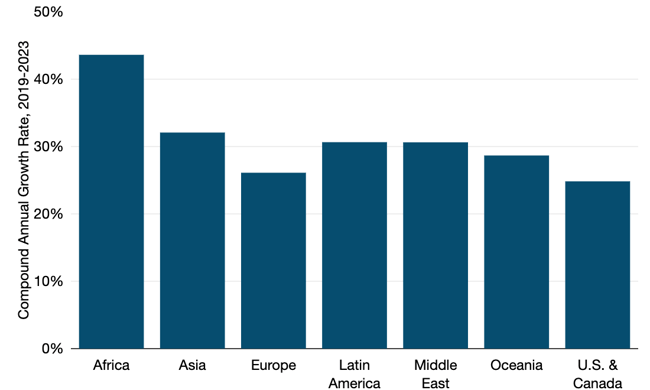 Notes: Data as of mid-year. Source: © 2023 TeleGeography



International internet traffic growth largely mirrors that of internet bandwidth.
Both average and peak international internet traffic increased at a compound annual rate of 30% between 2019 and 2023—slightly above the 28% compounded annual growth rate in bandwidth over the same period.
All the stay-at-home activity associated with COVID-19 resulted in a spike in traffic from 2019-2020. The return to more normal usage patterns over the last couple of years has resulted in a substantial drop in average and peak traffic.
Average traffic growth dropped from 46% between 2019-2020 to 23% between 2022-2023, while peak traffic growth dropped from 45% to 21% over the same time period.
Global average and peak utilization rates were essentially unchanged from the year before, at about 26% and 44% percent, respectively, in 2022.
---
In our IP Networks Research Service, we analyze the meaning of our robust internet capacity and traffic data sets. We also discuss factors impacting IP transit pricing, and the role individual backbone operators play.
Download the 2023 Executive Summary to keep reading our latest analysis.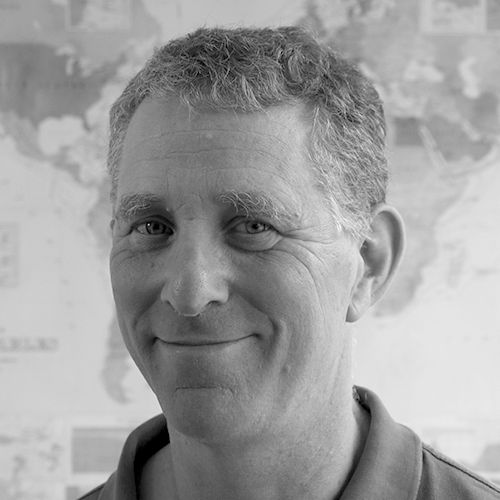 Paul Brodsky is a Senior Research Manager at TeleGeography. He is part of the network, internet, cloud, and voice research team. His regional expertise includes Europe, Africa, and the Middle East.