South Africa's MTN Group has announced the end of a decade-long legal battle centered on its Iranian subsidiary, MTN Irancell.
In a statement released on November 30, 2022, the group confirmed that the High Court of South Africa has dismissed a lawsuit launched in 2013 by Turkey-based Turkcell and its wholly-owned subsidiary, East Asian Consortium (EAC).
Turkcell and EAC were pursuing $4.2 billion in damages from MTN. The case was centered on allegations of impropriety related to the Iranian government's 2005 decision to oust Turkcell as a shareholder in Iran's first private sector mobile licensee, Irancell, and install MTN in its place.
In November 2020, Turkcell withdrew from the litigation, leaving EAC as the sole plaintiff, but the High Court judge put an end to proceedings by dismissing EAC's action with costs.
MTN Group says it's "delighted at the outcome," having consistently maintained that the lawsuit was without merit.
Let's have a look at the background of the case.
Birth of Irancell
In 2003, with incumbent operator Mobile Communication Company of Iran struggling to cope with the overwhelming public demand for mobile services, the Iranian administration bowed to public pressure to open up its state-run monopoly to private sector investment. The Ministry of ICT advertised a tender for the country's second nationwide GSM license in October that year.
In February 2004, a shortlist of five applicants was drawn up. This included Mobilkom Austria, a group backed by Orascom of Egypt, another by Turkey's largest mobile operator Turkcell, one by MTN Group of South Africa, and a consortium between Wataniya Telecom and Deutsche Telekom unit T-Mobile.
Later that month, the Turkcell consortium was announced as the winner—only for a heated political battle to ensue.
The Turkcell consortium was announced as the winner—only for a heated political battle to ensue.
A hard-line faction within the conservative-run parliament alleged that the Turkish cellco had links to Iran's bitter foe, Israel, and argued that a national security threat would be posed if it gained access to phone lines.
Such claims were a major public embarrassment to Iran's reformist president Mohammad Khatami, who had been attempting to forge better links with Turkey—a country Iran has traditionally had strained relations with.
Regardless, Khatami arranged the signing of a shareholder agreement with Turkcell in September 2004, whereby the cellco agreed to take a 70% stake in Irancell and pledged to spend upward of $3 billion on the venture.
Political Battleground
In response, the conservatives pushed through a new legislative bill designed to give the government a veto on foreign direct investment in local businesses, effectively giving parliament power to reduce Turkcell's stake in Irancell.
In April 2005, parliament voted to lower Turkcell's holding to 49%. This was followed by months of limbo as the motion to reduce the stake was passed from parliament to the Supreme National Security Council to the Guardian Council and back again for approval.
During this period, President Khatami was ousted by the ultra-conservative Mahmoud Ahmadinejad in the elections of June 2005, hampering Turkcell's cause still further.
Despite frequent reports that it intended to walk away from the deal, the Turkish company eventually accepted the reduced 49% stake, and Irancell officially received its GSM operating license in August 2005.
This was far from the end of the matter, though.
Reports soon emerged claiming that the Iranian government was secretly lining up MTN of South Africa, the runner-up in the original 2003 tender, to replace Turkcell.
MTN Arrives
As the Turkish company and the government continued to disagree over the small print of its participation—including whether Turkcell could increase its stake in the future—what happened next came as little surprise.
In October 2005, it was announced that MTN had replaced Turkcell as 49% shareholder.
In October 2005, it was announced that MTN had replaced Turkcell as 49% shareholder, providing a $388 million payment guarantee, which was put toward Irancell's GSM license.
While Turkcell said it would fight the decision to hand the Irancell stake to MTN, it was not until February 2012 that the Turkish company launched lawsuits against both the MTN Group and MTN Irancell.
Turkcell claimed that MTN officials had made "improper payments" to authorities in Iran so that it would be favored in the license award. Additionally, it claimed that MTN encouraged the South African government to give its backing to Iran's nuclear energy program and to help sway the award of contracts for military equipment to Iran.
While MTN released a statement announcing that it would investigate the Turkcell allegations, the South African government immediately denied any involvement. Turkcell, meanwhile, refused to cooperate with an independent panel led by UK judge Lord Hoffmann, which MTN set up to examine the case.
Turkcell's case was presented before a U.S. federal court in Washington, DC. The Turkish firm claimed that the lawsuit had international ramifications because of the connection to arms deals and Iran's nuclear program.
In June 2012, a South African police unit, the Directorate for Priority Crime Investigation, began looking into the allegations after Turkcell wrote to Lord Hoffman, saying it had proof that bribes were made.
A month later, MTN called on a U.S. federal judge to dismiss Turkcell's lawsuit as it had "no conceivable" connection to the United States. In October, the same U.S. federal court postponed its decision, pending the outcome of a separate lawsuit in the U.S. Supreme Court.
Federal judges were awaiting the outcome of a court case between Kiobel and the Royal Dutch Shell oil company, which alleged breaches of the Alien Tort Statute, a human rights law that Turkcell was using as the basis for its lawsuit.
The long-running dispute came a step closer to resolution in February 2013, when Lord Hoffman cleared MTN of allegations of bribery. In May 2013, Turkcell withdrew its lawsuit, a month before the U.S. Supreme Court was expected to make a ruling.
New Suit
In November 2013, however, Turkcell filed a new lawsuit—this time, with the South Gauteng High Court in MTN Group's home country of South Africa, claiming $4.2 billion in damages plus interest.
Turkcell filed a new lawsuit—this time, with the South Gauteng High Court in MTN Group's home country of South Africa.
This case was based on the same allegations originally made in 2012. MTN reiterated that it would continue to "vigorously defend any proceedings instituted by Turkcell in respect of such matters."
In the meantime, a separate case—filed by Turkcell against the Iranian government in 2008—was dismissed by the International Court of Arbitration in The Hague in October 2014.
In May 2017, Turkcell said it was confident that the MTN case would soon go to trial. Proceedings had been delayed by a series of objections raised by the South African group.
In October that year, MTN moved to have the case dismissed on the grounds that a court in South Africa had no authority to rule on a lawsuit involving the government of Iran. MTN labelled Turkcell's claims as "opportunistic, an abuse of the process of Court, baseless and without merit."
Continued Growth
Mobile Subscriptions in Iran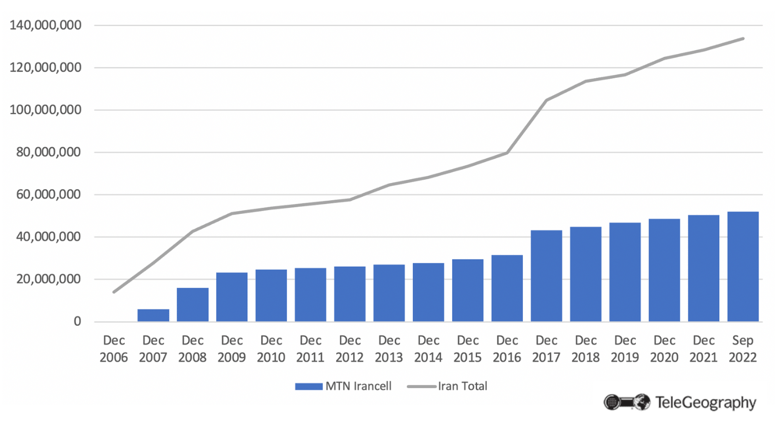 The latest court ruling seemingly puts to bed all of Turkcell's claims regarding Irancell.
Under the guidance of MTN, Irancell eventually launched in October 2006—with a staggering six million subscriptions on its books by the end of the following year. By September 2022, this increased to 52.1 million, claiming around 39% of the country's overall mobile market.
MTN Group has made moves to exit three of its Middle East operations, though it has announced no plans to do the same with Irancell.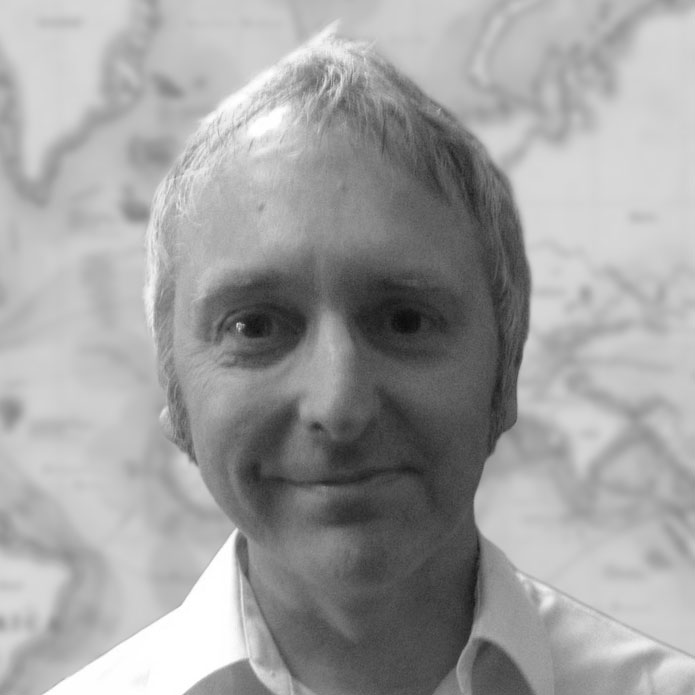 Pete Bell is a Research Analyst for TeleGeography's GlobalComms Database and also contributes to the daily CommsUpdate newsletter. He has a particular interest in wireless broadband and was responsible for TeleGeography's 4G Research Service until it was integrated into GlobalComms.