Uganda's wireless market has been rocked by the announcement of the imminent closure of number-three player Africell.
As the company revealed in early September, October 7, 2021, will be its last day of operation.
Africell's estimated 1.2 million subscribers will migrate to rival networks before that date.
In the words of Lebanese-owned, UK-registered parent company Africell Holding, its decision to close was "based on a careful assessment of the long-term commercial outlook for the business."
Africell Background
Africell Holding ventured into Uganda's wireless market in 2014 when it agreed to acquire a majority stake in Orange Uganda from Orange Group of France. The deal was finalized in November that year.
Africell Holding went on to raise its stake to nearly 99% after buying out another shareholder, HiTS Telecom. Orange and HiTS Telecom previously had a fractious relationship as co-owners, with HiTS accusing Orange of mismanaging the company "beyond repair."
Orange Uganda unveiled its first GSM-based services back in March 2009, before implementing an upgrade to 3G nine months later.
In July 2013, Orange launched the nation's third 4G LTE network on the heels of MTN Uganda and Smile Communications' respective network introductions in April and June. At the time of its launch, the 800MHz Orange network only covered the greater Kampala area. Expansions to Entebbe, Jinja, Mbale, Arua, Gulu, and Mbarara were then carried out over the next few years.
Missed Targets
Immediately after securing ownership of Orange in November 2014, Africell Holding divulged its plans to invest $150 million in Uganda over a three-year period to upgrade and expand network infrastructure. With this strategy, the firm hoped to boost user numbers to at least six million and take a 20% market share within four to five years.
But Africell fell short.
By mid-2021, MTN and Airtel had claimed more than 90% of Uganda's mobile subscribers, leaving smaller players like Africell and Uganda Telecom Limited (UTL) to duke it out over the remaining 10%.
Dominant Duo

Uganda Cellular Market Shares | June 2021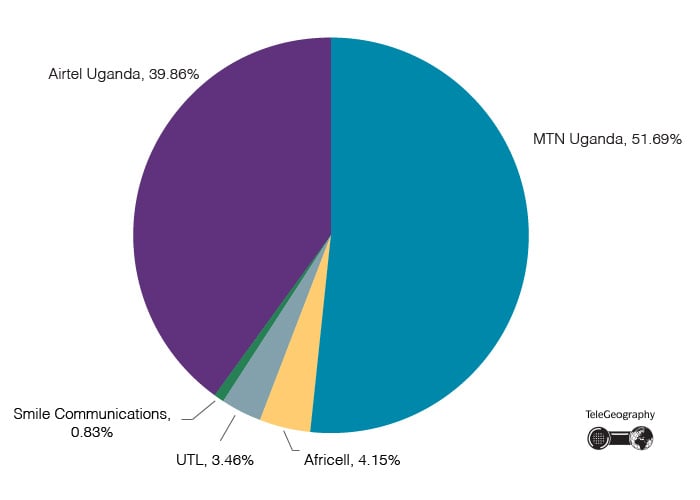 One contributing factor to Africell's failure was the lack of a mobile number portability regime in Uganda, meaning users were unable to retain their phone numbers when switching networks. This gave MTN and Airtel customers a vested interest in remaining with their network.
Tough SIM registration requirements also encouraged users to stick with their existing provider rather than repeat the grueling process on a new network.
Moreover, Africell was chastised for failing to develop its mobile money business while its larger rivals enrolled millions of users. There were 31.3 million mobile money accounts registered in Uganda by the end of June 2021.
Moreover, Africell was chastised for failing to develop its mobile money business while its larger rivals enrolled millions of users. There were 31.3 million mobile money accounts registered in Uganda by the end of June 2021.
To make matters worse, the Ugandan press criticized Africell for bringing in Lebanese staff to fill management positions and offering generous relocation packages in lieu of hiring locally. Although former CEO Ziad Daoud resigned and was replaced in March 2021, new CEO Houssam Jaber failed to stop the rot.
Following the announcement of Africell's impending closure, local telecom regulator Uganda Communications Commission (UCC) outlined a number of requirements that must be executed prior to shutdown. Mandatory tasks include settling any outstanding debts, complying with data protection and privacy laws with regard to customer information, and abiding by labor laws to ensure employees receive any overdue wages and redundancy payments.
Telecom Sector Remains Resilient
In response to Africell's announcement, the UCC also issued a statement that the country's telecom sector remains resilient and that "Sufficient measures have been instituted to ensure that Africell's exit does not negatively affect the stability and integrity of the communications sector in Uganda."
The UCC's quarterly market performance report notes that overall fixed and mobile telephone subscriptions climbed from 28.3 million to 28.9 million from April to the end of June 2021.
Still Growing

Uganda Mobile Market Growth | 2012-2021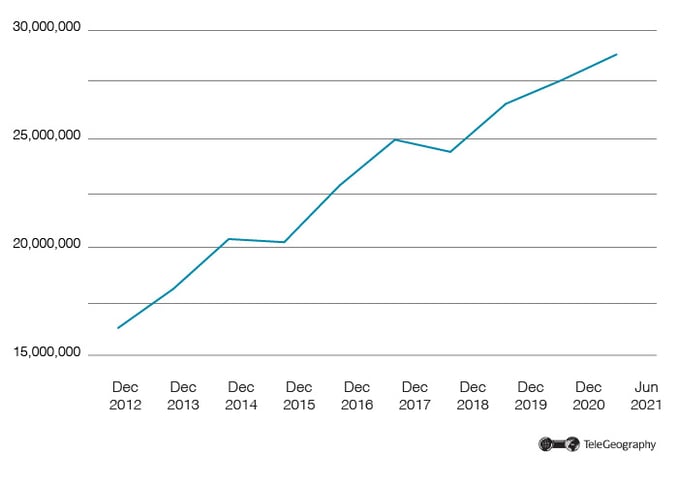 The fact that user numbers are still rising while operators are being forced out of business highlights the dominance of MTN and Airtel.
Indeed, Africell is not the only wireless operator to have gone out of business in Uganda in recent years. Smart Telecom shut down its network in 2018 but continued its venture as a reseller until August this year when it closed completely.
UK-based Vodafone teamed up with local operator Afrimax under the name Vodafone Uganda in November 2014 but ultimately decided to exit the market in 2018.
State-controlled UTL has also reportedly struggled to stay afloat due to sizable debts.
Although it is exiting Uganda, this isn't the end of the road for Africell Holding. The firm retains active operations in the Democratic Republic of Congo, Gambia, and Sierra Leone, with a launch planned in Angola by the end of the year.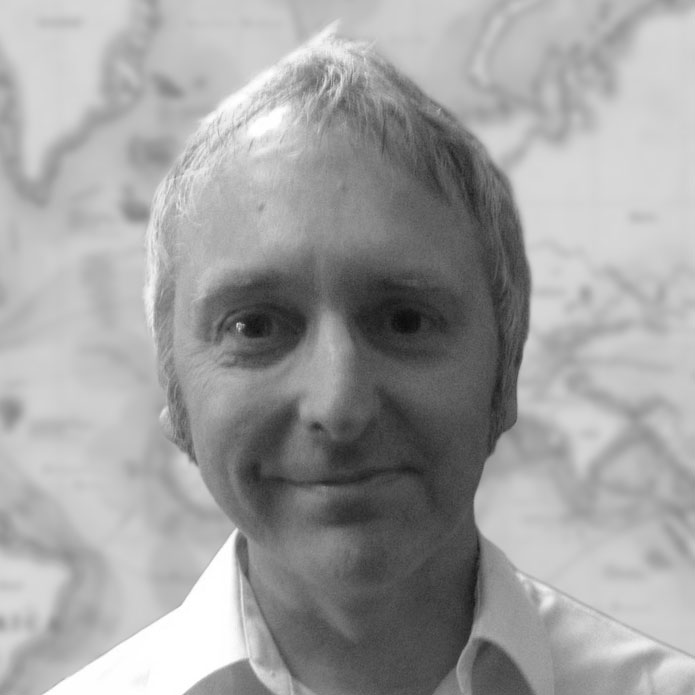 Pete Bell is a Research Analyst for TeleGeography's GlobalComms Database and also contributes to the daily CommsUpdate newsletter. He has a particular interest in wireless broadband and was responsible for TeleGeography's 4G Research Service until it was integrated into GlobalComms.