TeleGeography's rankings of provider connectivity include analysis based on BGP routing tables, which govern how packets are delivered to their destinations across myriad networks as defined by autonomous system numbers (ASNs).
(Quick reminder: every network must rely on other networks to reach parts of the internet that it does not itself serve; there is no such thing as a ubiquitous internet backbone provider.)
Unfortunately, there is no single, simple number to identify the best-connected provider. But there are several ways to measure connectivity, and each one highlights different strengths and weaknesses of a provider's presence. One basic metric is to count the number of unique Autonomous Systems (AS) to which a backbone provider connects, while filtering out internal company connections.
In 2019, we've seen little change among the top providers based on this ranking system. Hurricane Electric and CenturyLink have swapped the top spot for several years. Hurricane edged out then-Level 3 in 2017 as the best-ranked ISP in terms of overall connections, but the CenturyLink merger with Level 3 moved the combined entity back to the top in 2018. The two companies are now locked in a virtual tie.
Hurricane Electric and CenturyLink Share Top Spot
Number of Connections for Selected Providers, 2009-2019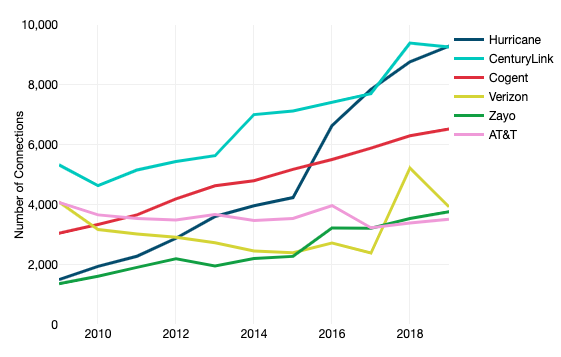 In addition to examining overall number of connections, we also used our analysis of BGP routing tables to look at the "reach" (a measure of the number of IP addresses an upstream ASN has been given access to from downstream ASNs) and "share" (which compares an upstream provider's reach to all other upstream providers of a downstream ASN.)
The results of this analysis paint a different picture.
In some cases, an ISP might end up high-ranked in terms of number of connections, but low-ranked in terms of share or reach when the number of IP addresses passed from its customers is relatively small. We also found that backbone providers that were well-connected in overall rankings did a remarkably poor job in connecting to the "eyeball networks" of local broadband ISPs.
Like this analysis? Want to explore our full provider ranking? You can do so in Global Internet Geography. This TeleGeography report is the most complete, up-to-date source of information about the global internet you can find anywhere.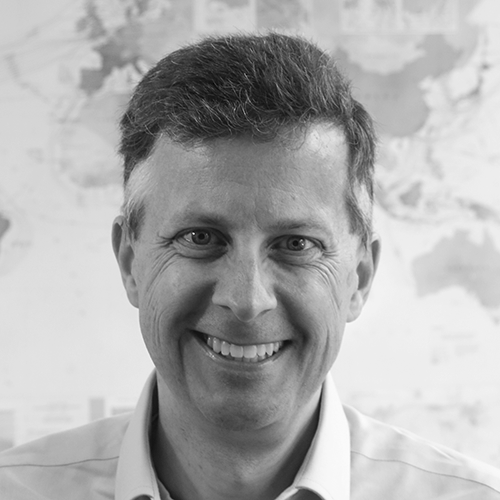 Tim Stronge is VP of Research at TeleGeography. His responsibilities span across many of our research practices including network infrastructure, bandwidth demand modeling, cross-border traffic flows, and telecom services pricing.