The Asia-Pacific region accounts for more than half of the world's 7.7 billion wireless subscribers, but it remains a region of extremes. It's home to some of the most advanced mobile markets as well as some of the least developed. While one country boasts the largest 4G LTE market on the planet, others have yet to offer licenses for LTE services.
According to figures from TeleGeography's GlobalComms Database, countries in the Asia-Pacific region accounted for almost 55 percent of cellular users at the end of September 2017, with the next largest market–Africa–home to 13 percent of users. All other regions have shares of under 10 percent.
Regional Shares of Global Mobile Market | September 2017
| | | | |
| --- | --- | --- | --- |
| | Total Subs | 3G Subs | 4G Subs |
| Africa | 12.9% | 18.7% | 1.8% |
| Asia-Pacific | 54.8% | 38.2% | 61.9% |
| Eastern Europe | 6.5% | 8.9% | 4.0% |
| LatAm & Caribbean | 9.0% | 14.7% | 7.3% |
| Middle East | 4.6% | 5.5% | 3.1% |
| U.S. & Canada | 5.0% | 3.7% | 11.8% |
| Western Europe | 7.3% | 10.3% | 10.0% |
The Asia-Pacific region is expected to have 4.7 billion wireless subscribers by the end of 2022, up from 4.2 billion as of December 2017.
4G Success
In the 4G sector, Asia accounts for an even larger slice of the pie, at 62 percent. One of the reasons behind this is the remarkable success of LTE-based services in China.
Toward the end of December 2017, the 4G market in China passed 1 billion subscribers, up from around 640 million a year before and 356 million at end-2015.
Toward the end of December 2017, the 4G market in China passed 1 billion subscribers, up from around 640 million a year before and 356 million at end-2015. As we discussed in an earlier blog post, 4G user numbers in China had actually passed those for 2G and 3G as far back as March 2016.
LTE services now account for more than 70 percent of all mobile subscriptions in the country, and Chinese customers make up a hefty 40 percent of the global 4G user total. The world's largest cellular operator by subscribers, China Mobile, had 649.5 million LTE customers at the end of 2017 out of its total of 887.2 million users.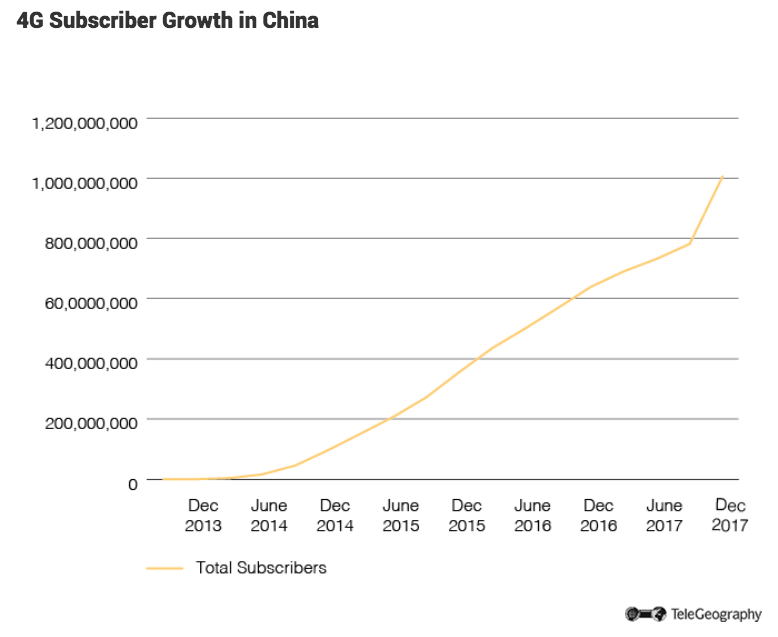 Goodbye 2G
The ongoing shift to 4G equipment has seen some Asian countries abandon their legacy wireless systems altogether.
In April 2012 Japan became the first nation to shut down 2G services, while Macau followed suit in 2015. Singapore and Taiwan joined them in 2017. When Vodafone Hutchison Australia closes its GSM network in March 2018, that country too will have waved goodbye to 2G technology.
Late to LTE
At the opposite end of the scale, in North Korea 4G services are non-existent, with the isolated regime unable to secure LTE equipment due to international economic sanctions. Bangladesh, meanwhile, is only just getting around to awarding 4G licenses, with a spectrum auction being held in February 2018.
All five of the country's cellcos applied for concessions, although only four are taking part in the auction, with state-backed Teletalk opting instead to use its existing 2G and 3G spectrum holdings for LTE.
The mobile market in India has been shaken by the entry of Reliance Jio Infocomm in September 2016. The upstart cellco sparked an immediate price-war with its raft of promotional free offers and has gone on to secure fourth place in the country's competitive wireless sector, garnering around 12 percent of all subscribers by the end of 2017, only 15 months after its launch. It is set to grow still bigger following the recent announcement that it would acquire spectrum and network assets from debt-laden Reliance Communications in a deal thought to be valued at INR240 billion ($3.8 billion).
All in all, there is much to digest in Asia's multi-faceted mobile sector.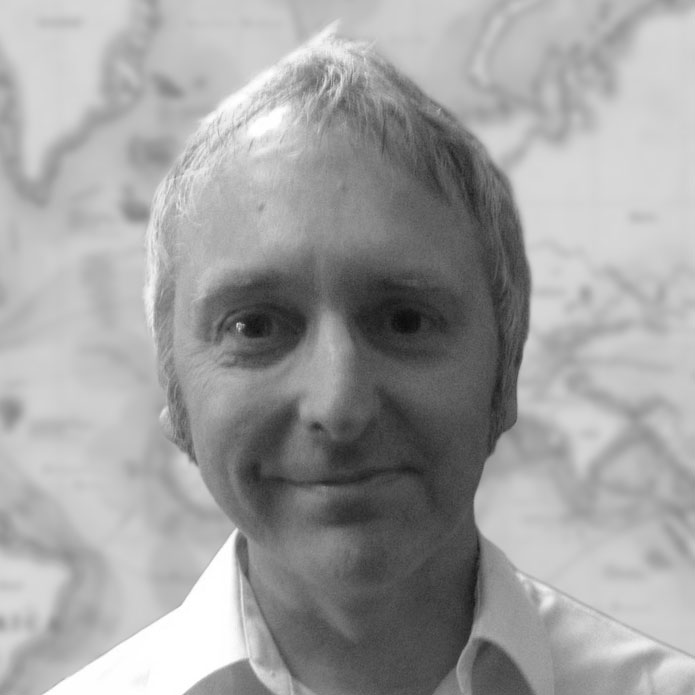 Pete Bell is a Research Analyst for TeleGeography's GlobalComms Database and also contributes to the daily CommsUpdate newsletter. He has a particular interest in wireless broadband and was responsible for TeleGeography's 4G Research Service until it was integrated into GlobalComms.