The market for fixed broadband services in North America is clearly divided along technological lines.
Cablecos are currently battling rivals with copper and, increasingly, fiber-based networks.
World's Second-Largest Market
At the end of June 2018, the United States had the second-largest fixed line internet sector in the world, with 111.7 million high speed internet subscribers.
According to TeleGeography's GlobalComms Database, the only nation with a larger broadband market at that time was China, with 378.3 million connections.
The U.S. household penetration rate had risen to around 93 percent by mid-2018, up from just 66 percent 10 years earlier.
Across the border in Canada there were approximately 14 million fixed broadband subscribers and a household penetration rate around 97 percent—just ahead of the U.S.
Subscriber Figures Slowly Tick Upward, Overall Growth Stalls
Fixed Broadband Subscriber Growth in North America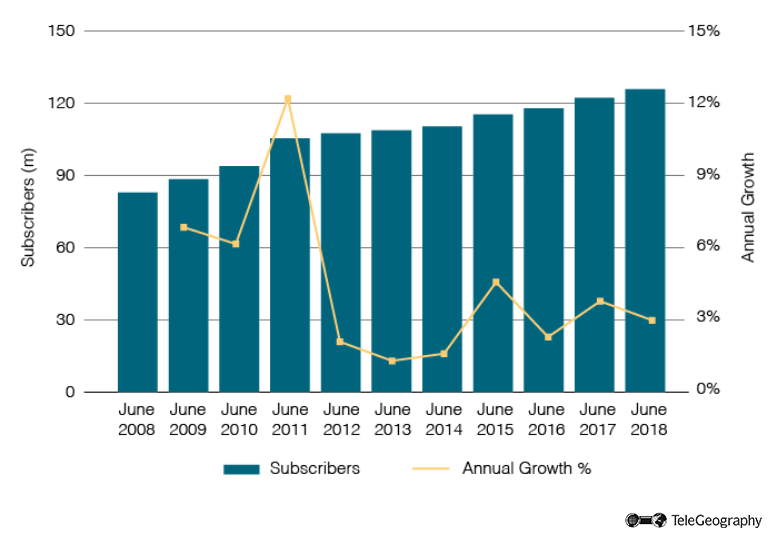 Cable Leads the Way
In both Canada and the U.S. it's the cable network operators who make up the largest part of the market, accounting for about 53 percent of all connections in Canada and 62 percent in the United States.
The largest cable multiple system operator (MSO) in the U.S.–and the country's biggest provider of fixed broadband access by subscribers–is Comcast. The Philadelphia-based cableco leads the pack with 26.5 million customers, equivalent to a 23.7 percent market share. The company offers triple-play services across 39 states and the District of Colombia; its broadband services are marketed under the name Xfinity.
Comcast's cable revenues climbed 3.4 percent in 3Q18, reaching $13.8 billion. This was driven by its broadband products, which saw sales increase nine percent year-on-year, to $4.3 billion.
The MSO recently emerged as highest bidder in a battle to win control of the U.K. pay-TV and broadband provider Sky.
Comcast has been deploying DOCSIS 3.1 equipment, which offers downloads at peak rates of up to 2Gbps. Four-fifths of its infrastructure is already upgraded with the technology and it is expecting to cover the remainder by early 2019.
Charter in Second Place
The second-largest broadband provider in the U.S. is another cableco–Charter Communications–which enlarged its operations in 2016 through the dual takeover of Time Warner Cable (TWC) and Bright House Networks. It had 24.6 million customers at end-June 2018, up from 23.3 million one year earlier and just 5.7 million pre-merger.
This gave it 22 percent of the overall broadband market in the U.S.
Like Comcast, Charter has been deploying DOCSIS 3.1 equipment to achieve gigabit speeds on its network, with full coverage planned by early 2019.
Main Fixed Broadband Providers – U.S. & Canada
Country
Company
Access Technology
Subscribers
Market Share
Canada
Bell Canada (BCE)
DSL/Fiber
3,856,555
27.5%
Rogers Communications
Cable
2,370,000
16.9%
Shaw Communications
Cable
2,051,550
14.7%
Telus Corporation
DSL/Fiber
1,794,000
12.8%
Videotron

Cable

1,674,100
12%
Cogeco Communications

Cable

787,000
5.6%
United States
Comcast Corp (Xfinity)
Cable
26,509,000
23.7%
Charter Communications
Cable
24,622,000
22%
AT&T
DSL/Fiber
15,772,000
14.1%
Verizon Communications
DSL/Fiber
6,956,000
6.2%
Cox Communications
Cable
5,145,000
4.6%
CenturyLink
DSL/Fiber
4,906,000
4.4%
Frontier Communications
DSL/Fiber
3,863,000
3.5%
Cablevision (Optimum)
Cable
2,681,300
2.4%
Suddenlink
Cable
1,400,800
1.3%
HughesNet
Satellite
1,298,000
1.2%
Mediacom
Cable
1,251,000
1.1%
Windstream
DSL/Fiber
1,245,400
1.1%
AT&T is Largest DSL and Fiber Provider
Leading the way in U.S. copper and fiber-based connectivity–and in third place overall–is AT&T, with 15.8 million broadband customers as of mid-2018 and a 14 percent share of the market.
AT&T began upgrading its copper networks with fiber-to-the-node technology in 2006 and went one step further in December 2013 when it introduced its first fiber-to-the-home (FTTH) services.
Its gigabit-capable FTTH networks are now available to approximately 9 million buildings in 70 major metropolitan areas across the U.S. The telco plans to cover some 14 million premises in 84 metro areas. Its legacy copper networks in other markets are being upgraded with G.fast equipment to improve download speeds.
Verizon Communications is the next largest fixed ISP in the United States, with almost 7 million subscribers and 6.2 percent of the total market by June 2018.
In April 2004 Verizon completed the build-out of its ADSL networks across its wireline footprint and within three months initiated the deployment of a fiber access network under the brand name FiOS. Around 6 million of its subscribers are fiber-based.
In April 2004 Verizon completed the build-out of its ADSL networks across its wireline footprint and within three months initiated the deployment of a fiber access network under the brand name FiOS. Around 6 million of its subscribers are fiber-based.
North of the Border
The Canadian fixed broadband sector is led by Bell Canada (BCE), with around 3.9 million customers at the end of June 2018 and more than 27 percent of Canada's ISP customers.
BCE uses a combination of DSL and fiber-based networks, while its two closest rivals, Rogers Communications and Shaw Communications, both use cable infrastructure. They had 2.4 million and 2.1 million subscribers respectively as of mid-2018.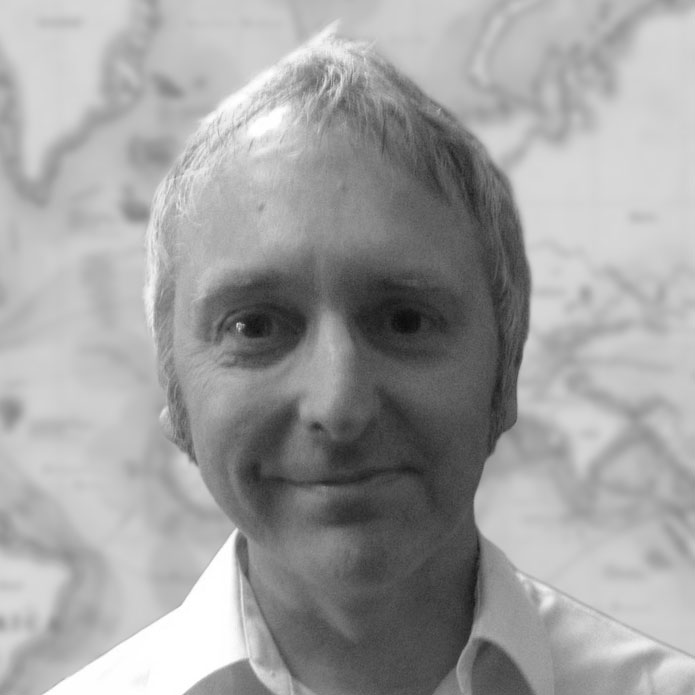 Pete Bell is a Research Analyst for TeleGeography's GlobalComms Database and also contributes to the daily CommsUpdate newsletter. He has a particular interest in wireless broadband and was responsible for TeleGeography's 4G Research Service until it was integrated into GlobalComms.