Figures from TeleGeography's GlobalComms Database show that the global wireless subscriber total has passed 8 billion. User numbers were up 1% in 2020, ending the year at 8.05 billion.
The cellular market showed year-on-year growth despite the negative economic effects of the COVID-19 pandemic, which contributed to downturns in user take-up in a number of countries.
Regional Differences
Of the end-2020 wireless user total, 55% were located in Asia; China and India alone accounted for 34% of the global base.
Asia saw year-on-year growth of 1%, with Pakistan registering the biggest jump in percentage terms. Customer numbers increased 6% in 2020 to 177 million. And there's still room for expansion in Pakistan. The country's wireless population penetration was around 80% at the end of 2020, compared to a regional average of 104%.
Asian Dominance
Regional Wireless Subscribers (millions)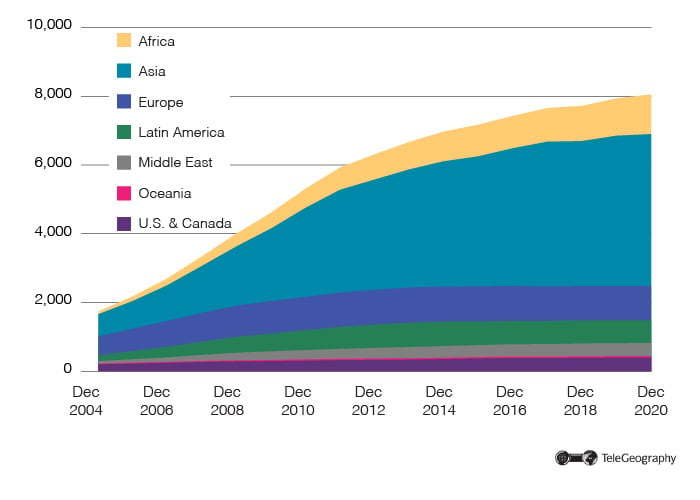 As for other regions, the U.S. & Canada also saw a 1% increase in customers, while overall user numbers in the Middle East and Latin America remained virtually static during 2020.
In Latin America's largest market by subscribers, Brazil, the year finally saw an end to a long-running decline in user numbers. The customer total had fallen from over 280 million in 2014 to below 200 million as of June 2020. But the second half of 2020 brought a turnaround as the country ended the year with 205 million cellular subscribers. However, Argentina, Peru, and Uruguay all experienced annual decreases of 5% or more in 2020.
Africa Up, Europe Down
The fastest-growing region was Africa, which saw a 6% increase in subscribers during 2020 to 1.16 billion. This annual growth is on a par with the previous year's figure.
Of the top 40 fastest growing markets globally in 2020, Africa was home to 29. It was led by South Sudan, which recorded an annual subscriber increase of more than 23%, while larger markets such as Kenya and Nigeria also recorded double-digit growth (up 13% and 12% respectively).
At the other end of the scale, the number of wireless subscribers in Europe has been in decline for the last six years. Of the 41 countries in Europe with a population above 200,000, 27 witnessed a drop in their wireless subscriber bases between December 2019 and December 2020.
Eastern and southeastern Europe saw some of the region's biggest customer losses, with countries such as Moldova, Bosnia-Herzegovina, North Macedonia, Montenegro, Albania, and Greece all registering annual declines of more than 5%.
Mobile Data
To combat declining subscriber growth rates, operators in increasingly saturated markets are turning to more advanced technologies as they seek to boost data revenues.
4G Continues to Grow
Wireless Subscribers by Technology, end-2020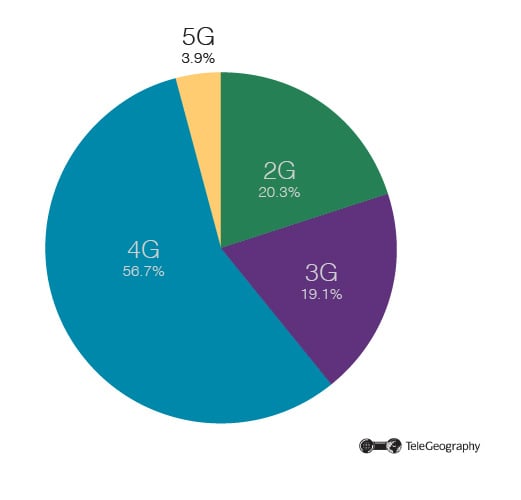 Following the launch of the first LTE networks in 2010, the global LTE subscriber base reached 4.56 billion at the end of 2020, up from 4.17 billion a year earlier and 3.50 billion 12 months before that. The number of 3G subscribers globally continues to decline, falling from 1.91 billion at December 2018 to 1.75 billion a year later and 1.54 billion by the end of 2020.
4G subscriptions now account for more than 56% of the total mobile market.
In the 5G sector, meanwhile, there were an estimated 315 million users worldwide at the end of 2020. China is way out in front in terms of take-up, accounting for around 281 million of the total. South Korea is another major 5G market, with the country's three cellcos having attracted almost 12 million users between them by end-2020.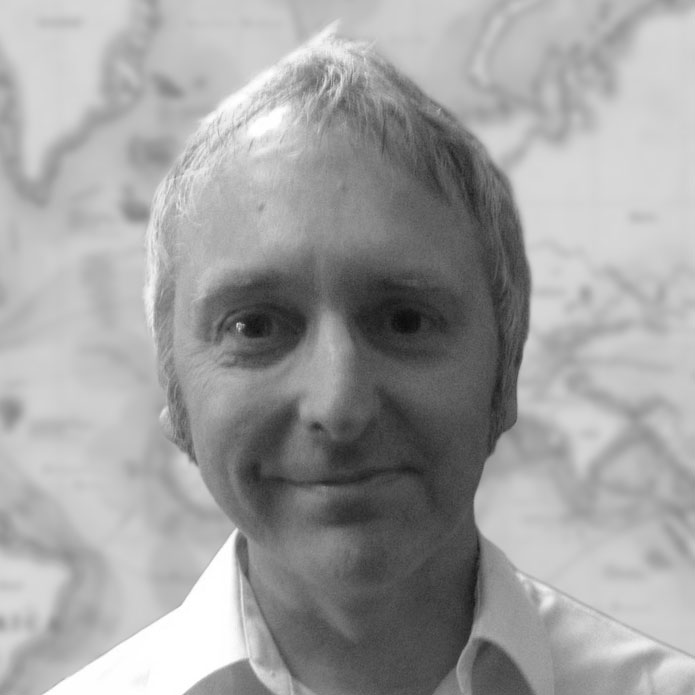 Pete Bell is a Research Analyst for TeleGeography's GlobalComms Database and also contributes to the daily CommsUpdate newsletter. He has a particular interest in wireless broadband and was responsible for TeleGeography's 4G Research Service until it was integrated into GlobalComms.