Endeavors like SpaceX's Starlink and Amazon's Project Kuiper have brought lots of attention to the expanding market for connecting more residential customers to satellite broadband.
But how are enterprises affected by the growing satellite market?
Place Oddity
Although the overwhelming majority of global bandwidth travels via fiber optic cable, some enterprises find themselves in hard-to-connect spots. Literally.
Industries like aviation, maritime shipping, energy, agriculture, and even tourism frequently struggle to attain network connectivity. This is largely due to the high cost or impossibility of laying fiber to remote locations and moving objects like ships or airplanes.
Satellite operators are often well-suited to alleviate these challenges. And with increased investment in satellite fleets used for telecommunications—including but not limited to those in Low Earth Orbit (LEO)—it is worth assessing how enterprise networks may evolve.
Let's Launch
For all communications services, including enterprise-focused, most satellites are owned and/or operated by a handful of companies. Among the key names are OneWeb, Starlink, Telesat, and SES, but others—like Viacom, EchoStar, China Satcom, Iridium Communications, Eutelsat, and Intelsat—also have a significant presence.
When it comes to maintaining a satellite constellation, there are costs to consider. For operators, that means replenishing their fleet as hardware ages.
The current life expectancy for small satellites—the type used for LEO connectivity—is around five to seven years. This is a big reason why Starlink and Kuiper have made such a big impact; both are owned by companies with the ability to launch rockets.
There is also the cost of connecting satellite bandwidth to end users on Earth. This is typically done with user terminals located at the site of the end user or via ground terminals that connect satellites to terrestrial (that is, on Earth) cable networks.
The success of LEO constellations depends largely on the technology for ground systems.
The success of LEO constellations depends largely on the technology for ground systems. If and when new devices develop with cost-effective ways to connect satellites to ground users, the business case for adopting LEO into a network will strengthen.
Under (Market) Pressure
Of course, besides ground systems, effective satellite constellations have units in space. According to space data publisher Seradata, as of June 10, 2022, there were 5,052 active satellites in orbit. Of those, 88% were in Low Earth Orbit, 10% were in Geostationary Orbit, and 1% were in Middle Earth Orbit.
Shown proportionately for distance from Earth and number of satellites per orbit, the figure below reflects these current statistics.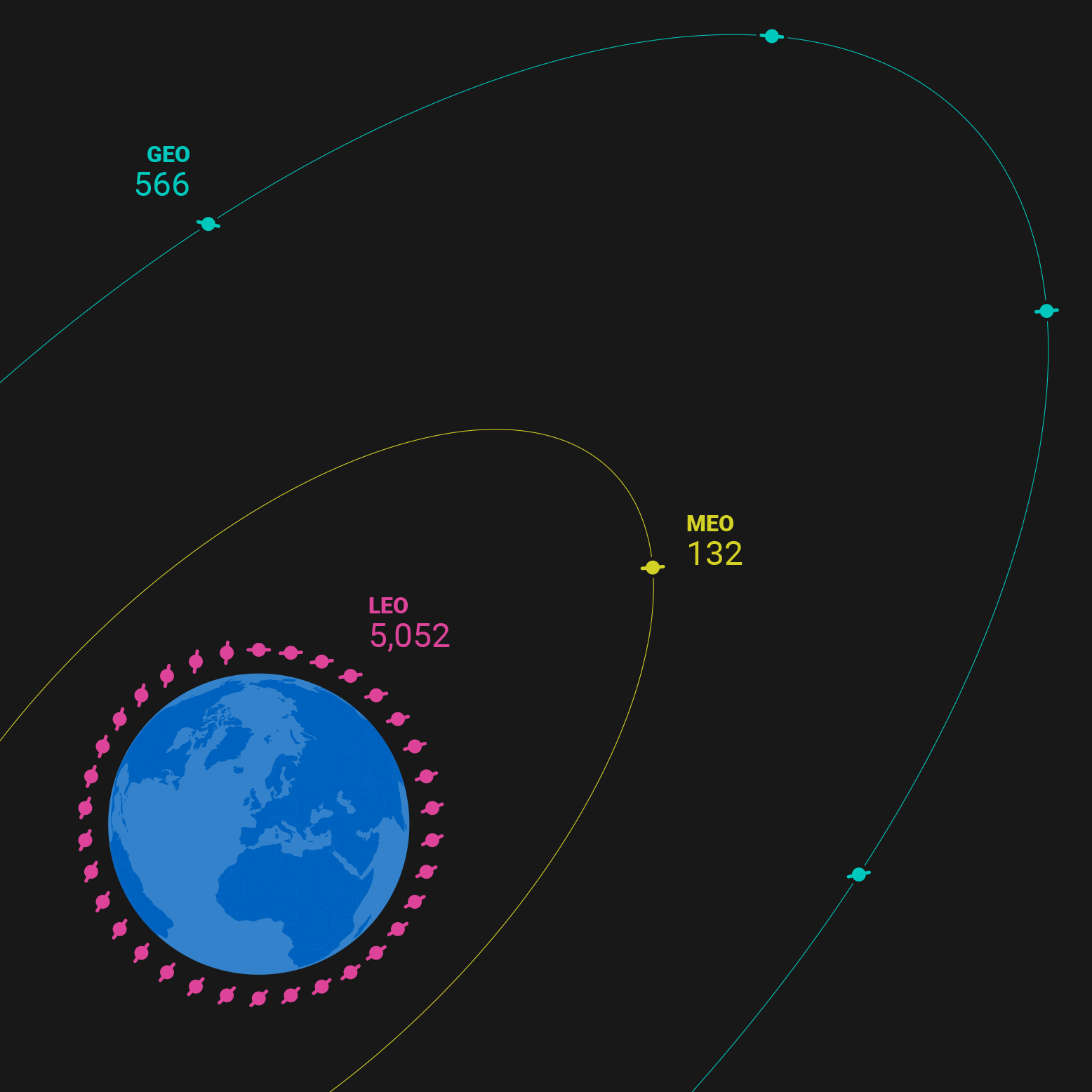 Note: Satellites are shown larger than their actual proportions.
Source: © 2022 TeleGeography
As you can see, Earth's orbits are getting increasingly busy. This can be largely attributed to the sudden growth of Starlink, which has launched several thousand LEO satellites since 2019.
But they aren't the only company looking to disrupt the market in this orbit, and some are specifically aiming to serve enterprise customers.
The market is still evolving, but dozens of companies are presently exploring the possibility of providing satellite connectivity. For these companies, understanding pricing is crucial.
Using data from our Cloud and WAN Infrastructure and Business Broadband Pricing research, the figure below shows the price range that satellite providers might take into consideration when comparing satellite networks to enterprise services like MPLS, DIA, and business broadband.
Median Monthly Price for 100 Mbps CoS3 VPN, DIA, and Business Broadband Plan Price By Geography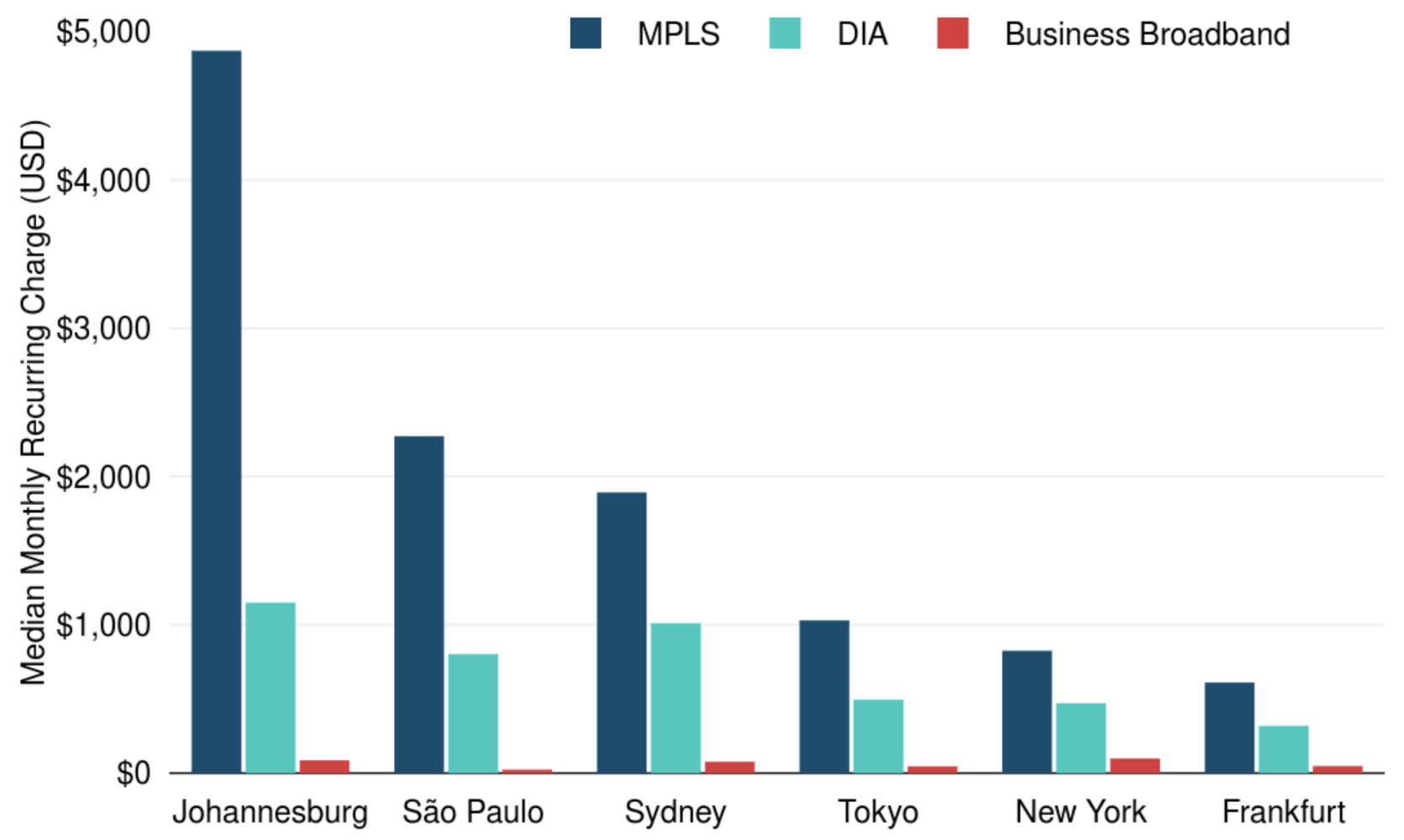 Notes: Each bar represents the monthly median MRC for a 100 Mbps connection. MPLS VPN prices represent the price of the port and exclude local access (as of Q2 2022). DIA prices assume an on-net service and exclude local access (as of Q2 2022). Broadband data aggregated on a country level (as of Q2 2021).
Source: © 2022 TeleGeography
Geography and quality of service affect the premiums customers pay for connecting their network locations. The big questions for aspiring LEO connectivity providers are similar to their terrestrial counterparts: price, latency, and reliability.
Can fast, dependable networks remain affordable with LEO satellites? And what benefits do LEO satellite networks offer enterprise WAN managers?
Dancing in the Edge
Although connecting enterprises via satellite is hardly a new concept, the recent surge of investment in LEO connectivity could reshape how enterprise networks are structured.
The recent surge of investment in LEO connectivity could reshape how enterprise networks are structured.
Of the many applications for LEO-based connectivity, network redundancy and improved latency—as well as throughput in remote locations—stand out for enterprises.
The growth of IoT as an enterprise necessity has relatedly driven many companies to explore launching LEO IoT constellations. This could wind up addressing underdeveloped enterprise requirements at the network edge.
Some cases overlap multiple needs. For example, an enterprise with rural locations may want to track shipment trucks as they deliver products between sites. Or a school in a mountain range may seek to reliably connect students to the global internet while also offering a Wi-Fi hotspot to the nearby community.
Sectors like eMedicine or the financial industry reveal other examples—where connectivity is sparse but fast, secure networks can potentially be served from LEO.
Continued investment in bringing data closer to the end user could reshape the appeal of satellites for enterprise networks. And with improving hardware and related strategies for managing a large number of low orbit satellites, we expect enterprises to pay more attention to what LEO offers. That might mean adding redundancy to a dynamic company portfolio or using satellites as a main source of connectivity.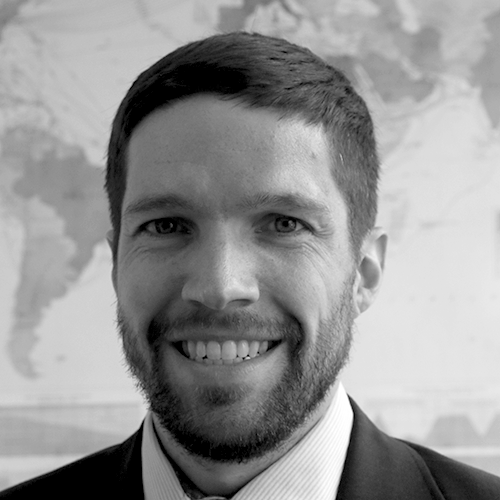 Peter Wood is a Senior Research Analyst at TeleGeography. His work is focused on network services and pricing with a regional focus on Latin America and the Caribbean.