So far, we've looked at integrating DIA and business broadband into a hybrid WAN. But there are a host of other network services that corporate networks teams have employed in their network transformations.
Our next scenario represents an Internet-first WAN with data center sites, a BYOB (bring your own backbone), if you will.
This customer may be someone with their own servers looking to build a fiber loop around the globe to connect them, even if they are at a neutral facility.
Admittedly, this is not one of our more common scenarios. And if you're just jumping in, we recommend starting this series from the beginning.
In our recent WAN Manager Survey update, P2P/IPL service was a relatively minor part of typical network configurations. In fact, the service represented an average of fewer than one in ten sites.
Why? Well, any-to-any services are still much more economical and manageable than having redundant private lines among many offices and sites. For those participants who reported any use of P2P/IPL, we followed up by asking where these circuits were deployed in the WAN.
Here's what we found:
The most common use case for P2P/IPL was between many diverse types of WAN sites (for example: connections between branch offices, on-premises data centers, neutral data centers, etc.) at 37%.


Using a mix of WAN sites and on or off-premise DCs made up 50% of respondents' answers.


Few respondents stated they operated P2P only between data centers (13%). This was a somewhat surprising result, given that this seemed like the most obvious use of private lines in a modern network (and what we are going to model here). However, it is certainly plausible that among the small minority of enterprises still relying on P2P service, they have it deployed across a variety of site types.
As for what types of companies had point-to-point services integrated into their WAN, the service was most prominent (13%) among Oil & Gas. This could be an artifact of the difficulty of connecting remote extraction and refinery sites to traditional network services.
IPL/P2P Locations, 2022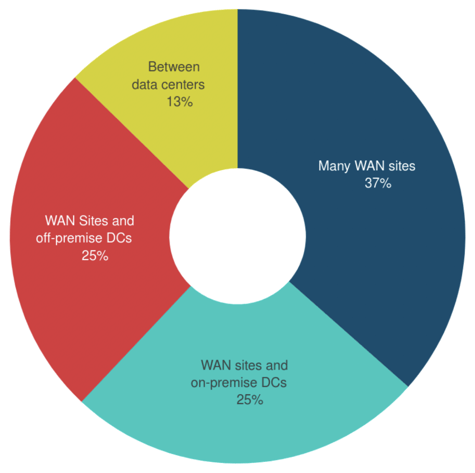 Source: TeleGeography
Our BYOB (Bring Your Own Backbone) WAN
Nevertheless, we thought it was important to explore this lesser used service as a part of our hypothetical WAN scenarios.
To simulate adding what a global fiber loop might look like, we've dropped all the MPLS from the network except in China (three sites). Dual DIA ports have been added to large, developed sites (Tier 1 sites from previous scenarios) and data centers. Broadband and DIA are running at all others. An SD-WAN overlay has been added to each site. Finally, a loop of 10 Gbps wavelengths has been included to connect all the data center sites.
Looking at the figure below, you can see that a majority of our DIA sites (represented by the turquoise columns) still fall in the 11-50 Mbps range. However, most broadband sites (featured in the red columns) fall in the 51-100 Mbps range. All the way to the right, in the yellow, our 10 Gbps wavelengths are highlighted.
BYOB Network Site Count by Capacity Range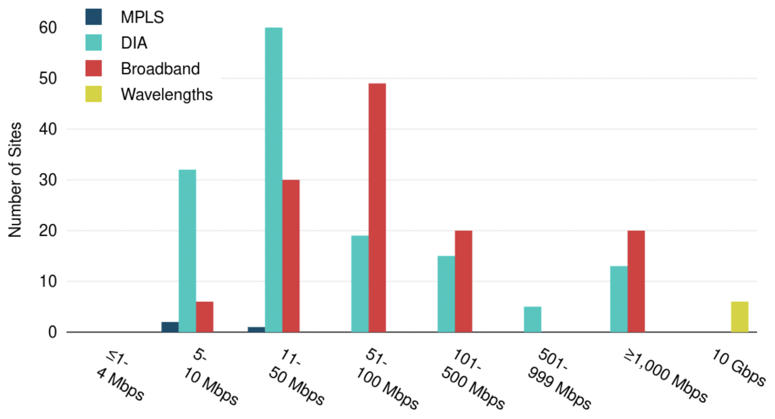 Source: TeleGeography
The average total site capacity (excluding the fiber loop bandwidth) is 566 Mbps, more than twice that of our original dual MPLS WAN, or a 130% increase.
BYOB WAN Average Site Capacity by Subregion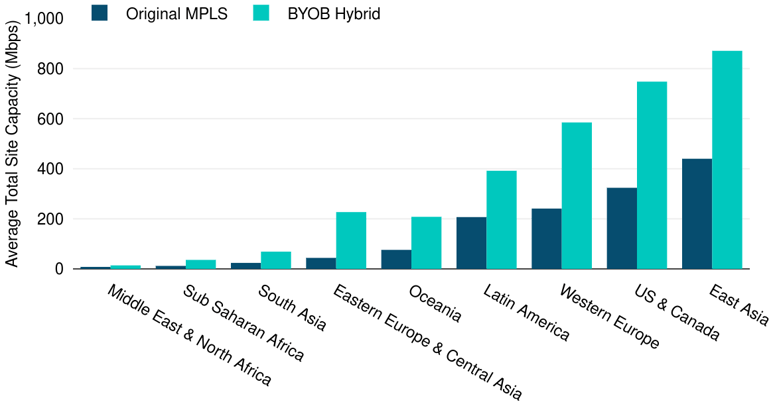 Source: TeleGeography
Does adding in the cost of a global fiber loop negate our savings? It most certainly does not.
Does adding in the cost of a global fiber loop negate our savings? It most certainly does not.
In fact, our BYOB Internet WAN was 28% or $1,773,826 less than the original MPLS network annually. The global transport loop to connect data centers (represented in the purple here) only accounts for 5% of the network TCO.
Dual MPLS and BYOB WAN with SD-WAN Annual TCO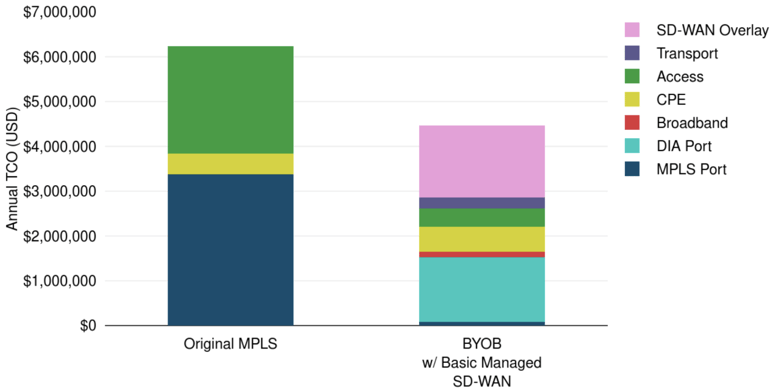 Source: TeleGeography
While a less common scenario, integrating alternative network services such as point-to-point connectivity into the WAN can be a cost-effective strategy for connecting key network sites.
Up Next: Adapting to Remote Work
---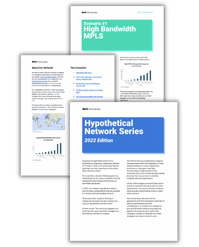 Good news!
This series is now an e-book.

Download your free copy to explore all five of our hypothetical scenarios in one place.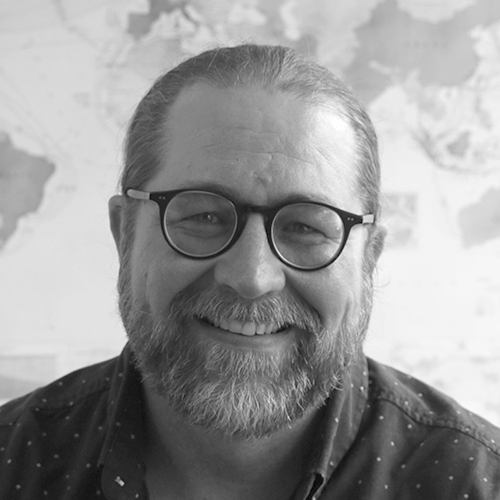 Greg is Senior Manager, Enterprise Research at TeleGeography. He's spent the last decade and a half at TeleGeography developing many of our pricing products and reports about enterprise networks. He is a frequent speaker at conferences about corporate wide area networks and enterprise telecom services. He also hosts our podcast, TeleGeography Explains the Internet.