Believe it or not, with 2022 comes our fifth State of the Network Report.
If this is your first State of the Network rodeo, think of this e-book as an annual telecom check-in, informed by another year of data collection and analysis from TeleGeography's larger research portfolio.
As usual, we extract the major global bandwidth headlines, take a snapshot of the global internet, peruse the latest in data centers, check in on the cloud, and finish with an update from the voice market.
There's no other way to put it. This State of the Network Report is a weird one.
Why?
Well, due to the lingering effects of the COVID-19 pandemic, 2021 saw its fair share of uncertainty. And at the same time, 2021 may be remembered as the year that the internet returned to normal—however you define that.
Yes, working and learning from home dramatically altered traffic patterns. But global internet bandwidth rose by 29% in 2021, which we consider a return to "normal" over the previous year's COVID-driven surge of 34%.
At the same time, content and carrier network operators continue to reckon with massive bandwidth demand growth driven by new applications and greater penetration into emerging markets.
Indeed, strong capacity growth is visible across regions. (Africa experienced the most rapid growth of international internet bandwidth, growing at a compound annual rate of 45% between 2017 and 2021.)
And there's more—but you'll have to download the e-book to read it.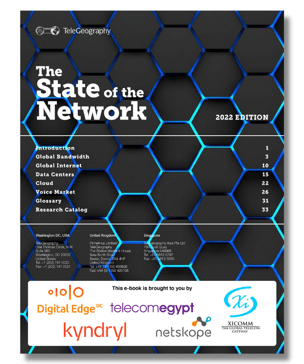 As always, this analysis was informed by TeleGeography data. It was collected throughout 2021 and you can find more of it within our full suite of research apps.
Thanks for your continued readership and interest in our work. Enjoy this year's report.
👉 Download the State of the Network E-book
The 2022 edition was graciously sponsored by: