We recently wrote about the decline of international carrier traffic, which comes at the hands of "over-the-top" (OTT) communications services.
Here's a quick recap: international voice carrier traffic is down. While Skype dominated the OTT market on computers, consumers now have a broad range of smartphone-based communication apps to choose from. Plus, both WhatsApp and Facebook Messenger topped 1 billion monthly active users in 2016.
While it's difficult to quantify the volume of international OTT communications, our latest TeleGeography Report includes a simple thought experiment to illuminate its likely scale.
International phone traffic grew at a compounded rate of 15% between 1983 and 2007, and an even faster 21% compound annual growth rate (CAGR) between 1927 and 1983. However, traffic grew at a more sluggish 7% CAGR from 2007 to 2014, before declining about 1% in each of the past 2 years.
We have no reason to believe interest in communicating abroad has decreased; rather, people are turning to new and different ways of keeping in touch.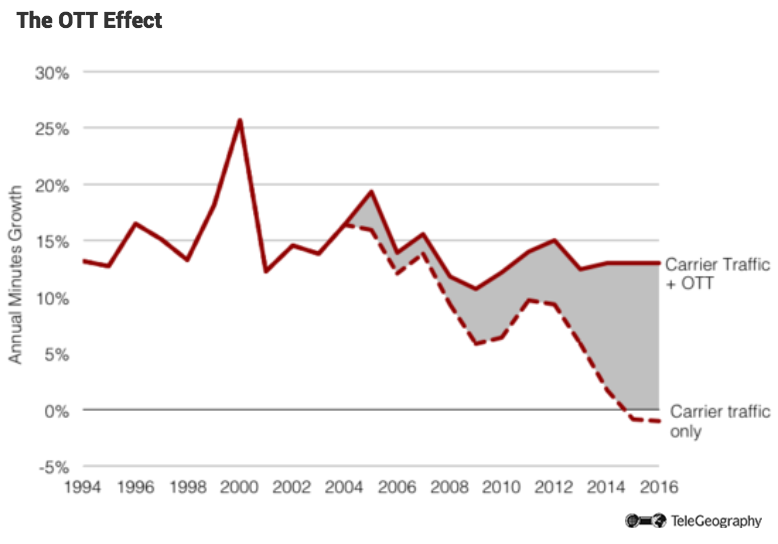 TeleGeography has fairly reliable estimates of Skype's traffic through 2013, when the company carried 214 billion minutes of on-net (Skype-to-Skype) international traffic. Telcos terminated 547 billion minutes of international traffic in 2013, and Skype plus carrier traffic totaled 761 billion minutes.
If we assume that total (carrier plus OTT) demand for international communications has continued to grow at a relatively modest 13% annually since 2013, the combined volume of carrier and OTT international traffic would have expanded to 971 billion minutes in 2015, and to just under 1.1 trillion minutes in 2016.
As traditional carrier traffic has slumped, OTT traffic has risen to fill the void.
This calculation suggests that cross-border OTT traffic grew to 420 billion minutes in 2015, and will reach 552 billion minutes in 2016, exceeding the 546 billion minutes of carrier traffic projected by TeleGeography.
That's a lot of minutes.
Stephan was formerly TeleGeography's VP of Strategy. He was responsible for new product development and advised TeleGeography's research teams.