After a successful three-year run in New York and London, next week the TeleGeography team heads to Singapore for the first-ever WAN Summit Singapore.
First things first: if you manage a network in Asia Pacific or work closely with a team in the region, this will be the premier WAN event of the year. If you're not already planning to meet us in Singapore, be sure to follow the action on Twitter.
Few people are more ready for the summit (and busier because of it) than TeleGeography's Senior Manager of Enterprise Research Greg Bryan.
Greg took a few minutes out of WAN Summit prep to give us a preview of the big event.
JM: Let's start with the basics. What is the WAN Summit?
GB: Big picture: the WAN Summit gets corporate WAN strategists and service providers in the same room. We always wanted to attend a WAN-focused event like this, but we couldn't find one. So we decided to create our own.
We always wanted to attend a WAN-focused event like this, but we couldn't find one. So we decided to create our own.
The WAN Summit is the place for WAN experts to exchange ideas, gain new perspectives, and connect with suppliers, customers, and peers. No other event offers opportunities like this for meaningful interaction between service providers and the managers of large enterprise networks. This is where it happens. We've had great success with this event in New York and London, and we're thrilled to bring it to Singapore.
JM: What has it been like preparing for Singapore?
GB: It's a very exciting thing. This is our first time taking the WAN Summit to Singapore. And we're working with the best; we have speakers from Citi, Orange, VeloCloud, Vodafone – it's a stacked lineup.
One thing that means a lot to us is presenting case studies so attendees get real, actionable suggestions for managing their networks. We look at challenges faced by other companies and we hear again and again how valuable these sessions are. I'm happy that we have more case studies lined up for WAN Summit Singapore, including one from Diebold Nixdorf.
Finding these stories and learning from the experience of others is one of the best parts of preparing for these events.
JM: Well on that note, what do you think the hot topic will be?
GB: I've got to believe that everyone will be talking about hybrid networks and SD-WAN.
We absolutely saw this earlier this year during WAN Summit New York – both customers and vendors were interested in hybrid WAN solutions. And I know there were plenty of questions about how SD-WAN is actually deployed across the network and how it benefits corporate WANs. I'm hoping for more outstanding SD-WAN conversation next week.
JM: How can WAN enthusiasts not in Singapore follow along?
GB: We'll miss those who can't make it to Singapore, but if you follow the @WANSummit on Twitter we'll be sharing lots of content from the event. And, if I'm not mistaken, we'll have videos and top takeaways popping up on our blog following the event.
Join our next summit and take in all of these stories in person.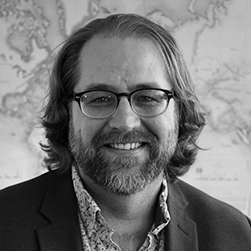 Greg is Senior Manager, Enterprise Research at TeleGeography. He's spent the last decade and a half at TeleGeography developing many of our pricing products and reports about enterprise networks. He is a frequent speaker at conferences about corporate wide area networks and enterprise telecom services. He also hosts the WAN Manager Podcast.