Over the past two decades, the international long-distance industry has experienced wrenching changes. Service providers have weathered market liberalization, the enormous telecom market bubble and its aftermath, intense competition, rapid technological innovation, and non-stop price declines. Throughout these years of market turbulence, double-digit traffic growth helped the industry to eke out modest revenue gains in most years. However, even greater challenges lie ahead: traffic growth is slowing, just as international telcos must come to grips with competition from software based computer and smartphone applications, such as Skype, WhatsApp, and WeChat.
International Call Volumes and Growth Rates, 1995-2015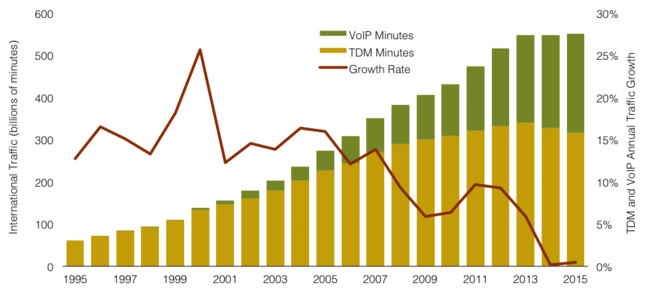 Inside the TeleGeography Report, you'll find data-rich insights, including:
The impact of mobile telephony in emerging markets on wholesale markets
How much international wholesale traffic grew in 2014 and its impact on revenues
Which carriers have shifted focus to margins and are deliberately allowing volumes and gross revenues to decline
Traffic and price projections over the next five years
Find out more, download the TeleGeography Report Executive Summary here.