Last week I attended the Submarine Networks World Conference in Singapore. A record number of attendees was no doubt a reflection of the submarine cable sector's vibrancy.
TeleGeography estimates that $9.8 billion of new cables are entering service in 2016-2018. And, unsurprisingly, building more cables seemed to be on everyone's mind.

In Singapore there was a lot of talk about the need for more cables to enhance route diversity. Major consumers of submarine cable capacity tend to purchase bandwidth on multiple cable systems. Creating mesh networks is important to provide a high level of network availability and to comply with stringent service level agreements.
In fact, in my presentation on why we need more submarine cables, diversity was one of the reasons I mentioned.
If we look at the chart below, the number of cables between Japan and the U.S. is nine. This includes the recently-launched FASTER cable; the New Cross Pacific Cable is scheduled to connect to Japan next year.
Number of Cables Per Route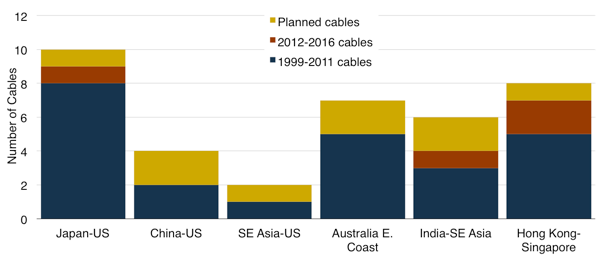 This route certainly has many different routes to provide resilient connectivity, but is it enough? A different picture emerges if we look at the potential capacity per route.
On the Japan-U.S. route just two cables—FASTER and New Cross Pacific—will account for over half of the potential capacity on the route.
Potential Cable Capacity Per Route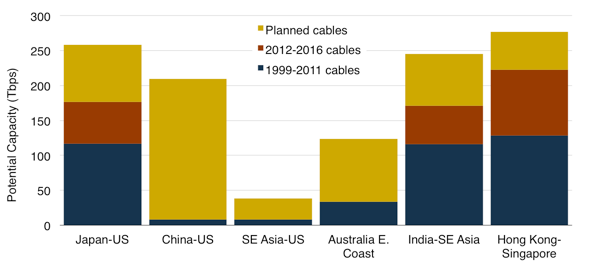 As the lit capacity of these new cables is activated over time, these cables may carry so much traffic that sufficient resiliency may prove impossible unless more higher-capacity systems are added.
Perhaps the building boom of new submarine cables is just getting started.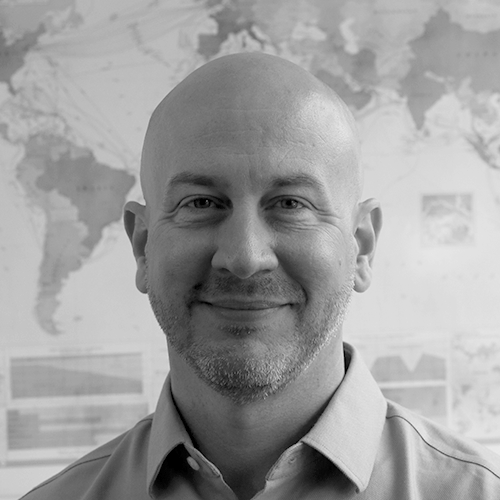 Alan Mauldin is a Research Director at TeleGeography. He manages the company's infrastructure research group, focusing primarily on submarine cables, terrestrial networks, international Internet infrastructure, and bandwidth demand modeling. He also advises clients with due diligence analysis, feasibility studies, and business plan development for projects around the world. Alan speaks frequently about the global network industry at a wide range of conferences, including PTC, Submarine Networks World, and SubOptic.