Last month we welcomed our 2019 Submarine Cable Map into the world. This new edition is all about the building boom.
Our 2019 infographics single out the economics of new cables, investors, bandwidth demand, and—of course—a closer look at how content providers are getting involved.
Unlike previous submarine cable construction booms, companies like Amazon, Google, Facebook, and Microsoft are taking a more active role. These companies have such incredible bandwidth demand for their data center traffic, they're driving projects and route prioritization for new cables.
Today we're sharing new graphics about Amazon, Facebook, Google, and Microsoft cables to get a sense of where these content providers are making their mark.
And for a running list of content provider cable holdings, bookmark this page. We keep it updated as providers get involved in new cable projects or as similar companies start investing in new builds.
Amazon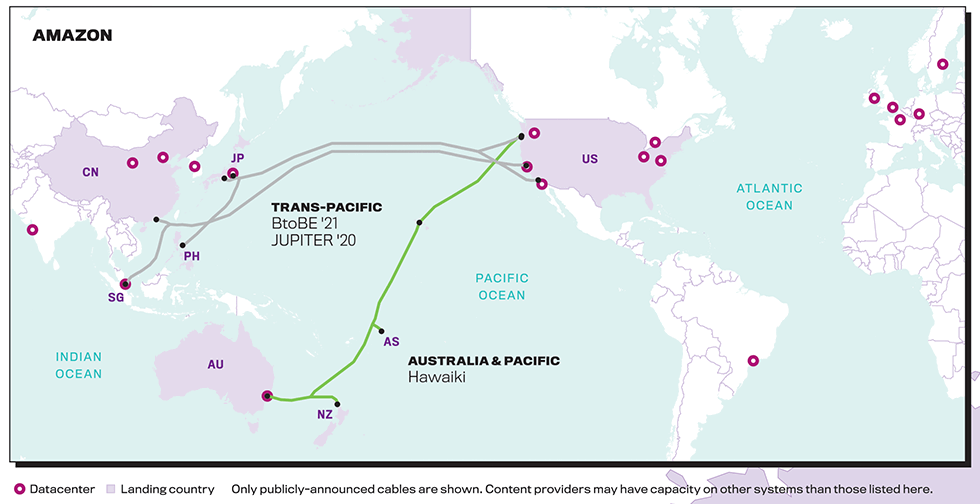 Three cables bear the Amazon name: Bay to Bay Express (BtoBE) Cable System, JUPITER, and Hawaiki. The online retailer is a part owner of the former two and a major capacity buyer of the latter.
Keep an eye out for the Jupiter cable, which will connect Asia and the U.S. in 2020. This cable will stretch more than 14,000 km and is equipped to carry more than 60 terabits of data a second.
Facebook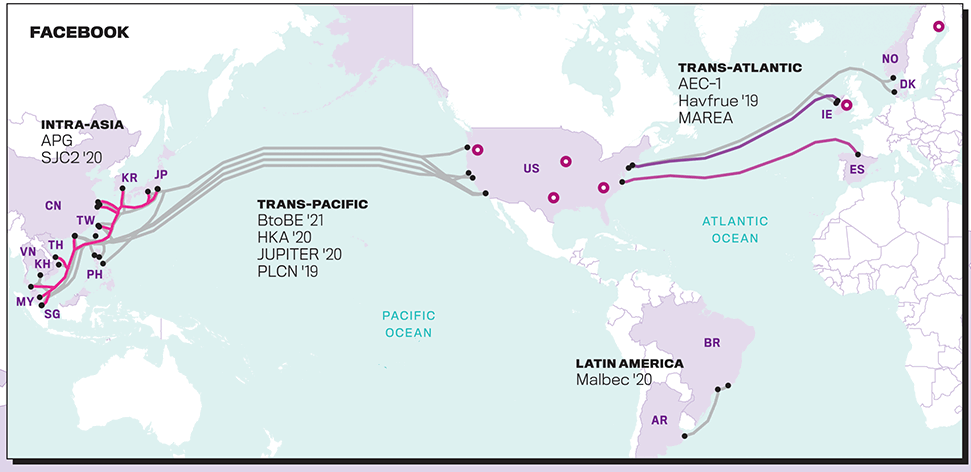 As of March 2019, Facebook has an even longer list of cables:
Beyond being a part owner of JUPITER alongside Amazon, Facebook is in on the Havfrue cable—one of the five cables we're watching in 2019.
Havfrue will be supplied by Subcom and will be the first trans-Atlantic cable to link Scandinavia to North America since the aging TAT-14 cable, which entered service in 2001.
Google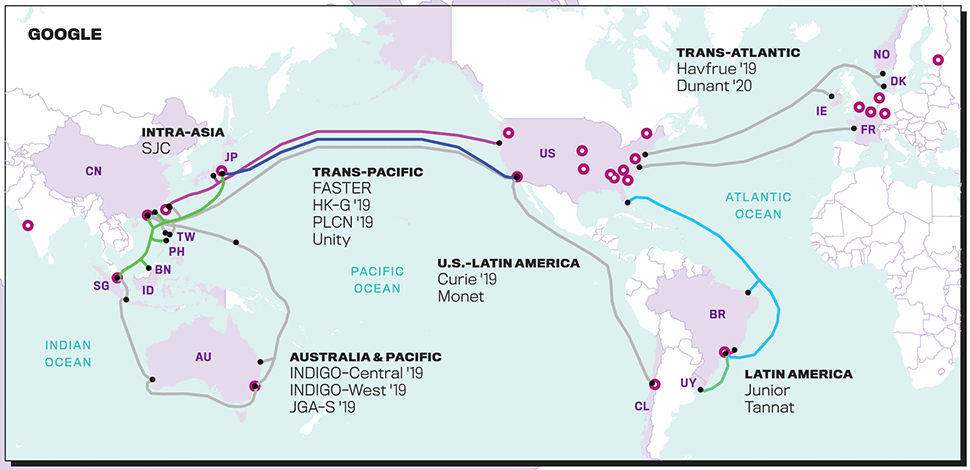 Google logs a similarly lengthy list of cable projects as of 2019:
This list has several highlights. For starters, the PLCN will be the first direct cable from Hong Kong to the mainland United States. And the Curie cable will be the first new cable to land in Chile in almost 20 years.
The INDIGO-West cable also has our attention. It will join the Australia-Singapore Cable as the only other high-capacity cable linking Australia's west coast to Indonesia and Singapore. Similarly, the INDIGO-Central cable will be the first subsea cable to directly link Perth to Sydney.
Microsoft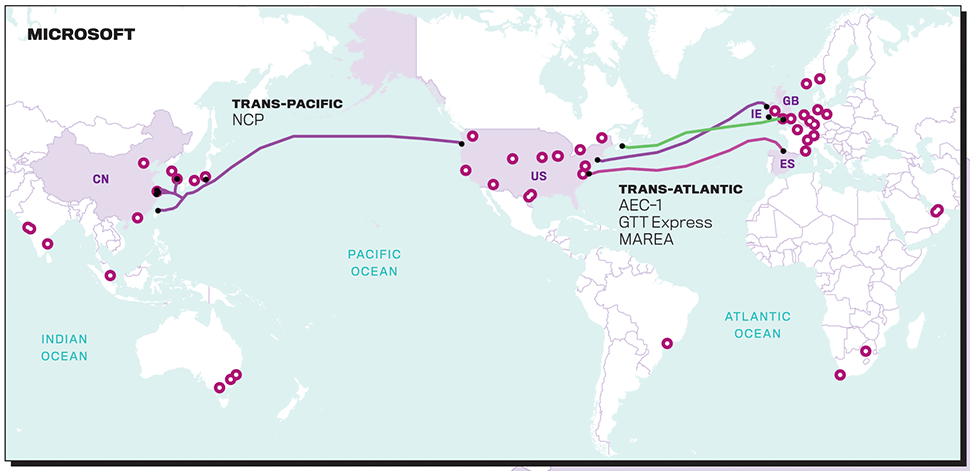 Microsoft is in the mix with four major cables: AEConnect-1, GTT Express, MAREA, and New Cross Pacific (NCP) Cable System.
The MAREA cable takes a unique path from Virginia, U.S. to Bilboa, Spain. Notably, the cable reaches depths of 11,000 feet below the surface and has the ability to deliver 160 terabits-per-second.