Like many of our readers, I'm currently working from home. And it's likely that I will be for the foreseeable future.
Luckily, TeleGeography just completed its move from a local server that had been living in the IT closet of our DC office to Google's G Suite solution. We can now access shared files using our at-home broadband connection and G Suite authentication. Despite the uncertainty of the current situation, we're able to carry on (fairly) business-as-usual.
While our migration was on a smaller scale—with fewer than 50 employees around the world—many enterprise network professionals are making similar calculations for the future of their data centers and servers. Cloud services have become increasingly integral in the workplace as companies shift data, compute, and storage management from their internal IT team to a cloud service provider (CSP).
In this post I'm going to explore how enterprises are approaching their data center strategy, pulling mostly from the results of our recent WAN Manager Survey, as well as TeleGeography's Cloud & WAN Infrastructure.
To start, let's look at how enterprises are housing their servers: on-premises or off-premises?
Data Center Locations
We asked WAN managers where they kept their servers, be it in a traditional on-premises data center, on bare metal servers in neutral facilities, on private or virtual private remote servers operated by a CSP, or some mix of those offerings.
Where are your data centers located?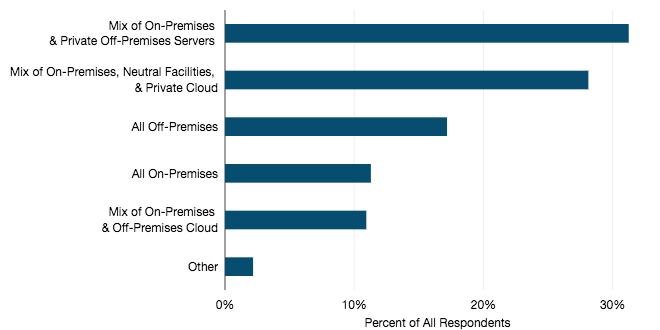 Note: Each bar represents the average percentage across all respondents using the listed mix of data center locations.
A clear trend emerged.
More than 80% of survey respondents were using some flavor of off-premises servers along with their on-premises data centers. On the flip side, only 11% of respondents have only on-premises servers in use.
Folks are taking advantage of a range of deployment solutions. Whether that reflects a snapshot of transition away from the on-premises model completely, or if internally managed servers will remain in some hybrid model, remains to be seen.
How to Get There
We're a smaller outfit, so a plain old internet connection gets us to the cloud. While basic internet works for us and many others, companies have an evolving range of connectivity options depending on their capacity, performance, and security requirements.
In fact, the majority of our survey respondents come from large enterprises, including some of the largest companies in the world. This is good to keep in mind as we look at how they choose to connect to their IaaS provider.
What methods do you use to connect to your IaaS providers?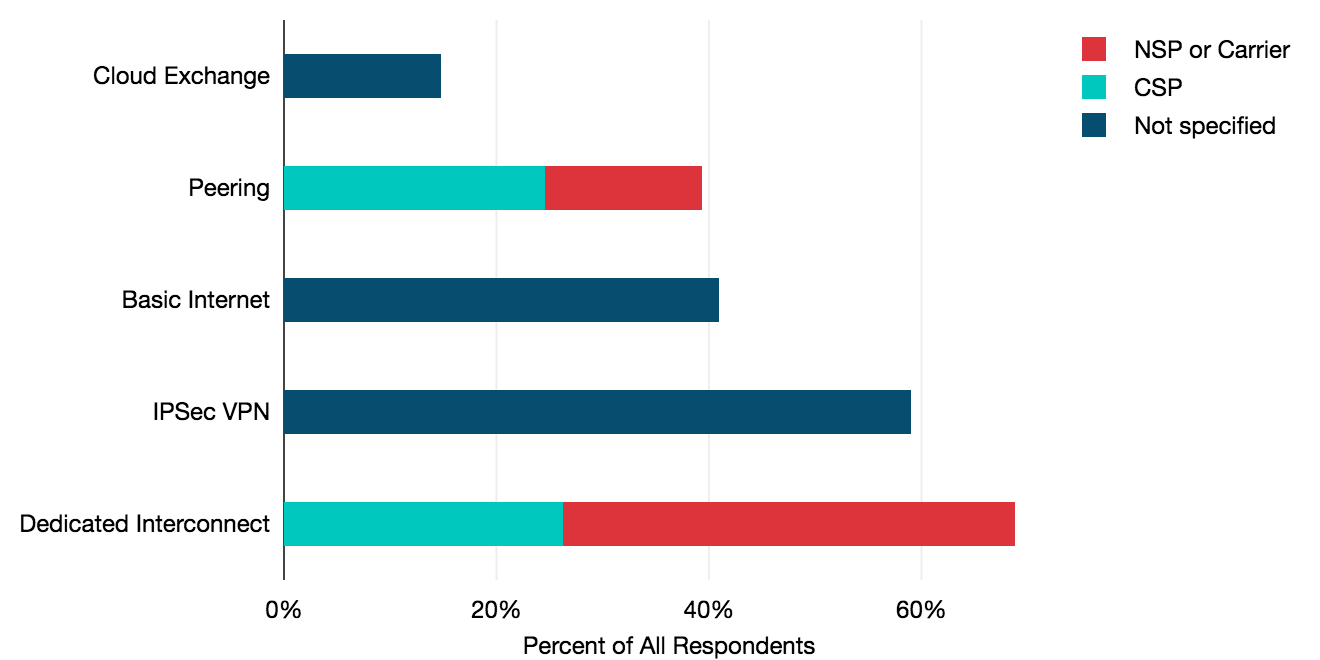 Note: Each bar represents the percentage of respondents using the listed IaaS connection methods. Respondents indicated if they received "Dedicated Interconnect" or "Peering" from their CSP or from their NSP or carrier. For "Cloud Exchange," "Basic Internet," and "IPSec VPN" no distinction was made on where respondents sourced their connection method.
When asked what methods they used to connect to their IaaS providers, almost 70% of participants indicated that they have a dedicated interconnection provided either by their network service provider (NSP) or directly from the CSP.
A dedicated interconnection bypasses the public internet to connect the enterprise network directly to the CSP with a high bandwidth private link.
Respondents preferred connecting through a carrier or NSP by a 2:1 ratio. Selection of a provider often depends on the location of the enterprise WAN in relation to the cloud providers' zones or data centers. If a company has routers located within the same colocation facility as the cloud provider, it could work directly with the CSP to facilitate the direct connection between networks.
Over half were using IPSec VPN connections, which supports lower-capacity data connections to the CSP network across the public internet through a VPN tunnel. One WAN manager from an entertainment company saw IPSec VPN as the best route for "quick, fast connectivity" but did not consider it a scalable solution to support their future cloud capacity.
And as I write this, my roommate is using a VPN to access their company's AWS servers while working from home. The connection has dropped enough times that they're ready to throw their work laptop out the window. With that in mind, I can see how performance issues like packet loss, jitter, latency, etc., can get frustrating, especially once you're dealing with larger data requirements.
Enterprises can bypass set-up and maintenance costs by directly peering with the CSP if they have an ASN, or going through an NSP if they don't meet peering requirements. Connecting directly with the cloud service provider proved the more popular method, likely because the scale of companies with existing peering relationships would be more likely to go direct than through a network service.
Relatively few enterprises opted to set-up a private connection or "cloud-exchange" at a colocation center where its CSP has an on-ramp.
Speaking of on-ramps…
Connecting to On-Ramps Around the Globe
Where an enterprise chooses to connect may depend on the location of its WAN in relation to where the enterprise can interconnect with the cloud network edge, often called an "on-ramp." These dedicated cloud connections represent the edge points of presence of the cloud networks and are typically found in colocation facilities of the most interconnected cities.
How many dedicated connections do you have in each subregion?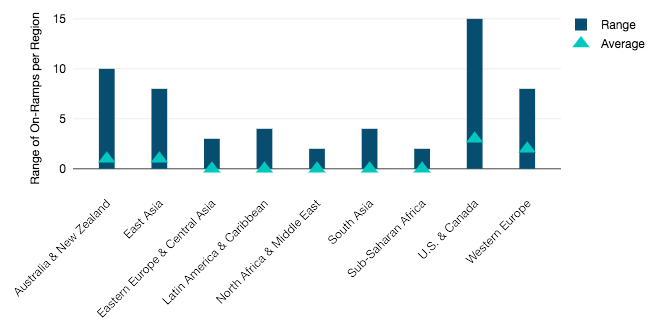 Note: Each bar represents the range (minimum to maximum) and average number of dedicated connections in each subregion of all respondents who indicated that they are using dedicated connection methods.
Among those who reported at least one dedicated connection in their network, most had only a few dedicated connections in each region. The more heavily trafficked regions of North America and Western Europe saw the highest average number of connections, three and two. Companies had an average of one on-ramp in Australia & New Zealand, South Asia, and East Asia, while other subregions averaged out to less than one.
The concentration of data centers in respondents' networks is not surprising, given the spread of CSP on-ramps across the globe. The Asia & Pacific region is home to 118 availability zones (or cloud data centers). The United States and Canada are close behind with 94. Together, these regions account for 72% of the world's cloud data centers, with Europe housing 25% and Latin America just 3%.
Global Cloud On-Ramp Locations, 2019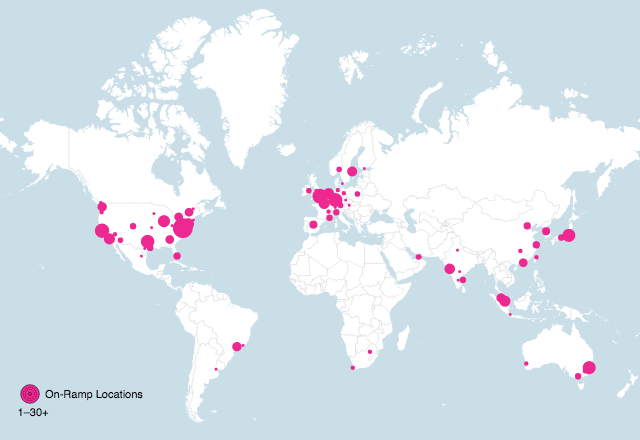 Note: Data only includes IaaS cloud provider on-ramp information from Alibaba, AWS, Google Cloud, IBM, Microsoft Azure, Oracle Cloud, and OVH. Data as of Q1 2019.
Bypassing On-Ramps With SD-WAN
Some network managers who have fully deployed SD-WAN considered all of their local internet breakouts as "on-ramps" for connecting to the cloud over the public internet. Rather than backhauling cloud traffic to a centralized breakout at a data center, these infrastructure managers connect to the cloud over the internet from each site, securing traffic at the local breakout.
We also investigated how WAN managers are securing their local breakouts in the report, but that's a subject for a future blog post!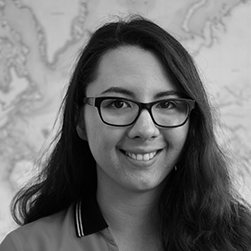 Elizabeth Thorne is a Research Analyst at TeleGeography. Her work is focused on enterprise network research.