Missed the WAN Summit in London?
Not to worry, TeleGeography is here to help! Here are our three takeaways about the future of enterprise WAN networks that you should know about.
So, we just completed the WAN Summit, the third annual WAN Summit in London on October 7th and 8th and definitely a good time was had by all. We had about 150+ delegates which was great, and about a 50% increase in the end users that attended the conference. I wanted to talk to you today about three key takeaways that I think were particularly important from this London WAN Summit.
#1 Hybrid WANs are increasingly common
So, first is that hybrid wins are really becoming a reality in the marketplace and we are seeing more enterprises adopt this networking style.
We had two great case studies throughout the WAN Summit, from Adidas and from Pearson. You can find both of those on the event archives of www.wansummit.com and I encourage you to take a look at them.
They both went through the reasons that they moved to a hybrid WAN network, away from an all MPLS network; how they kept their traffic prioritization in place; how they kept their network secure; and how they designed the network from end to end. And we saw a lot of the same themes repeated from panelists and even from some of the carrier presenters throughout the day.
And what that really brings up is the question of why? Why move from and all MPLS network to some kind of hybrid with broadband, IP, and MPLS? And one of the answers that came up throughout a lot of the different discussions during the two days of the event was cost.
#2 Hybrid WANs will save you money
So, at the WAN Summit, a great presenter, yours truly, gave a presentation on the cost of moving to a hybrid network from an all MPLS network. I went through various hypothetical scenarios of looking at the difference between an all MPLS network cost and the cost of various MPLS hybrid networks.
The one that really stood out was the MPLS and business broadband scenario. So, in that one, I actually increased the amount of bandwidth that was available to each site in my hypothetical network, while the total cost of ownership of that model went down about 40%. This really illustrates one of the key reasons that we see a lot of end users moving away from the all MPLS to an MPLS, broadband or IP hybrid.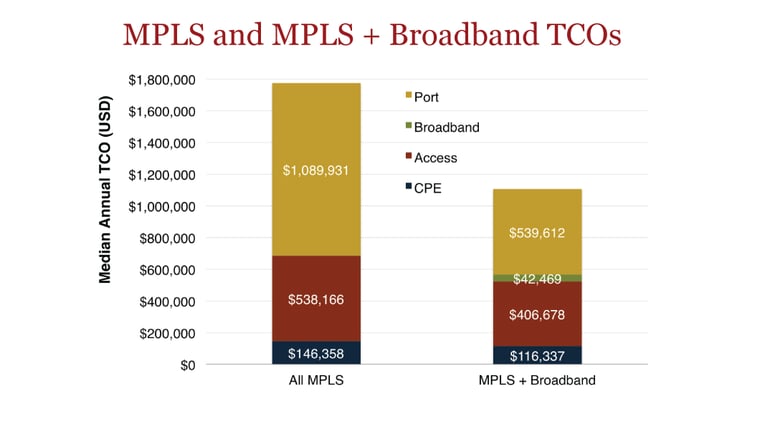 Now, one of the questions I got after this presentation was really on point. If I moved to this kind of hybrid network what happens to my traffic prioritization, the security of the network, and the applications I run across the network? And that brings us to the third key takeaway from this WAN Summit.
#3 SD-WAN can make hybrid WANs both secure and efficient
So, we are seeing a lot of companies emerge with SD-WAN products that are really designed to mimic some of that MPLS functionality in a best-efforts or hybrid network kind of environment. And we brought this up on a panel that I moderated on "WAN optimization" and looked at how SD-WAN and WAN optimization overlap and how they can work together to really make sure that applications work across the network and that those applications that are constantly driving bandwidth needs up can function in this best-efforts kind of environment.

And then finally, I would encourage you to check out the presentation by Ray Watson of Masergy on "The Fifth Generation of I.T.," which really goes into depth how Software Defined Networking works into the history of networking and the future of networking and can change the way you think about the WAN.