IP transit prices vary across the globe, but they have one thing in common. They all decline.
In the last three years, some of the highest rates of price erosion occurred in markets with the greatest competition and the largest amount of international internet traffic exchange—namely, global hubs.
Today we're exploring some of the most notable examples of this.
In Europe, London is a primary destination for regional traffic, as well as internet bandwidth from sub-Saharan Africa and the Middle East. Yet, prices in the British capital dropped at an astonishing rate of 36%.
Then we have the price for a 10 GigE port in Miami, which fell at a rate of 33%. Miami is a global hub in its own right, host to traffic exchange from Latin America.
In East Asia, Singapore has emerged as a hub for intra-regional traffic exchange. Even with a 31% rate of price erosion, ports in Singapore remain more expensive than in Western Europe and major U.S. destinations. For example, a 10 GigE port in Singapore is about 3.8 times the price in London.
No One Escapes Price Erosion
Weighted Median 10 GigE IP Transit Prices & Three Year CAGR Decline in Major Global Cities, Q2 2019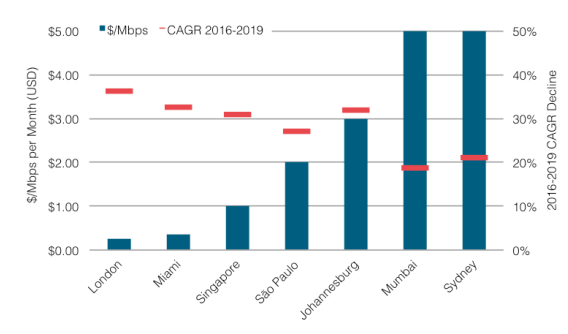 The price for a 10 GigE port in Johannesburg dropped 32%. This largely reflects falling transport prices linking South Africa to Europe, especially on the WACS cable.
Finally, the price for a 10 GigE port in São Paulo fell 27% to reach $2 per Mbps. After the launch of three new cables connecting Brazil to the United States (Seabras-1, Monet, and BRUSA), it's no wonder transport prices dropped.
It's not a bold prediction that IP transit prices will continue to fall globally, as they always have.
The rate of decline will be greatest in emerging markets. In these markets, high prices have greater potential to fall due to increases in volume and local traffic exchange, which improve economy of scale. In established global hubs, prices will also continue to fall, largely a result of escalating volume and declining unit cost.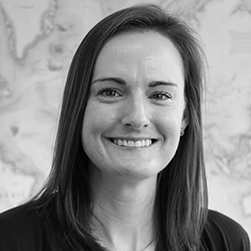 Kate Reilly is a Senior Analyst at TeleGeography. As part of the pricing team, Kate contributes analysis to both enterprise and wholesale products.