The geographic coverage of carriers' enterprise network services varies significantly. Not every carrier connects to every city in their customers' networks, and not all services are available everywhere.
When narrowing down the universe of potential suppliers, enterprises must first consider how their geographic requirements overlap a potential service provider's physical network. They then must determine if the specific data services they require are enabled at each of the service providers' PoPs.
TeleGeography's WAN Services Coverage analysis—part of our Cloud and WAN Research Service—examines carrier network connectivity and service availability from a geographic perspective.
Here's a snippet of that analysis, followed by some handy definitions.
Global Business Center Product Comparison
Layer 3 MPLS IP VPN remains the most common enterprise-wide area network product across 165 key business center metros.
In these metro areas, carriers present over 3,000 offerings of this service.
EoMPLS is the second most common service in these locations, with over 2,500 offerings, and DIA is third, with over 2,300 offerings. EVPN is offered over 2,000 times in these metros, and DWDM is offered over 1,800 times.
Number of Offerings of Eight Enterprise Products across 165 Key Business Centers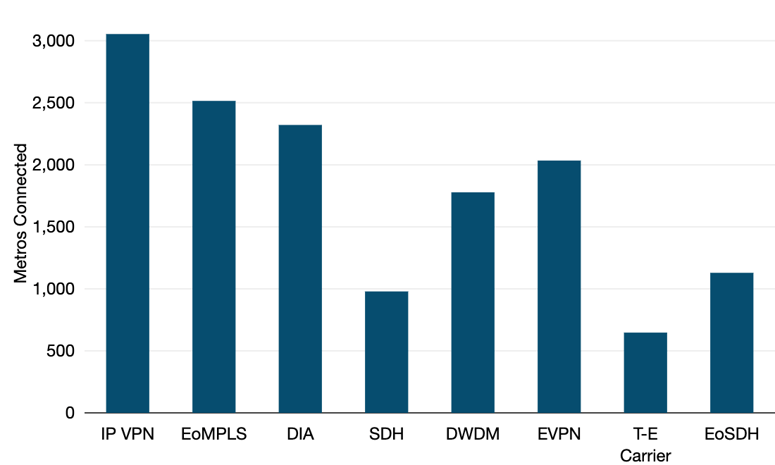 Notes: Total number of offerings that participating carriers indicated they could offer each of the listed eight services in 165 business centers. Data as of Q4 2022. Source: © 2023 TeleGeography
Product Geographic Comparison
Each of these five enterprise products (plus SDH, EoSDH, and T-E services) are most widely available in Europe, followed by the U.S. and Canada, and then Asia.
Number of Offerings of Top Services by Region in Key Metros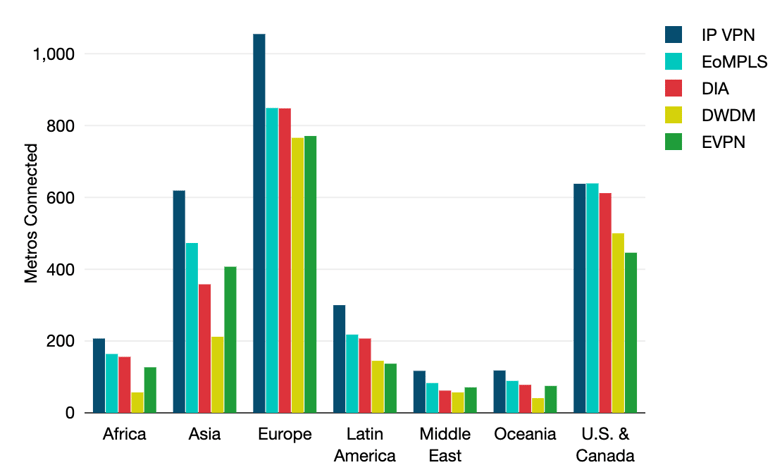 Notes: Each bar represents the total number of sites for each product across 165 key business centers. Data as of Q4 2022. Source: © 2023 TeleGeography



But what's the difference between these eight products?
Here are the definitions we use in our research.
Any-to-Any/IP Networks
Any-to-any includes multipoint-to-multipoint or IP services typically sold as enterprise products.
Layer 3 IP virtual private network (VPN), is based on an MPLS network. IP VPN is a layer 3 IP-routed service that allows customers to set up a network of secure, private connections that tunnel over the public IP or carrier network.
Carriers offer VPN beginning at low capacities such as 64 Kbps all the way up to 10 GigE (10,000 Mbps). Because VPN can be routed over the public IP network, and it allows for diverse access options, it is typically thought of as the most geographically ubiquitous network product.
VPN is typically thought of as the most geographically ubiquitous network product.
A key characteristic of VPN over MPLS is the ability to mark important packets with queuing instructions based on their priority. This prioritization is called class of service (CoS).
For example, a customer can pay an extra charge in addition to the port lease to have all of its voice and video packets marked with high priority CoS tags that allow these packets to skip to the front of the line at crowded routers in the core network.
Dedicated internet access (DIA) is the most basic IP service available to retail customers. It is simply an always-on, uncontended pipe to and from the public Internet.
As with VPN, the access options are generally wide and will determine the up/down speed ratios of the DIA service. DIA is sold as a port in the carrier PoP, but should not be confused with access technologies such as DSL.
Unlike consumer grade IP service often sold to smaller businesses, DIA comes with service level agreements (SLAs) and speeds that the carrier guarantees will not vary with local usage rates, as is the case with a contended service.
Ethernet virtual private network (EVPN) is the newest enterprise solution to emerge in long-haul Ethernet products. This layer 2 VPN service was formerly referred to as VPLS in our Cloud and WAN Research Service, which is how some carriers still refer to it. It shouldn't be confused with a legacy product of the same name and—as far as TeleGeography research is concerned—is always a port-based any-to-any service.
For many carriers, the presentation of EVPN to the customer is very similar to VPN.
EVPN, however, requires an Ethernet local loop, which may limit its application geographically. EVPN essentially allows the customer to bring the LAN to the provider edge, where they can then connect the LAN directly to the wide area network.
EVPN allows sophisticated customers to create their own virtual paths over the carrier's MPLS core or multiservice platform, therefore offering the ultimate in tunneling security since the customer can have control over routing within the cloud. Most carriers offer a CoS system for EVPN similar to that found in layer 3 VPN.
Long Haul Ethernet Private Line
This category includes point-to-point or point-to-multipoint Ethernet products, excluding EVPN.

Ethernet over MPLS (EoMPLS) is a virtual private line that is tunneled through the MPLS network cloud.
Some carriers sell this in two ways, either as a point-to-point service that would simply replace legacy TDM private lines, or as a hub and spoke service that allows one central office to communicate with many satellites, but does not allow communication among the satellite offices. In either case, the layer 2 service is switched over the network cloud, but approximates the security and privacy of a traditional private line.
Ethernet over SDH/SONET (EoSDH/SONET) is the ability to offer the scalability and interface of Ethernet over an SDH/SONET line.
This service can be sold in both protected and unprotected forms, similar to traditional SDH/SONET. There are several advantages to EoSDH/SONET service, including its ability to allow the customer to connect the LAN directly to the private line rather than engineer a conversion to SDH/SONET. The second key advantage is that it allows the customer to buy in smaller Ethernet increments such as 10 Mbps rather than purchasing five E-1s or a DS-3 with 35 Mbps of excess capacity.
Long Haul Private Line
The services listed under this section represent the legacy private line technologies.
T/E Carrier is a TDM T-1 (1.5 Mbps) or T-3/DS-3 (45 Mbps) line in the U.S., Canada, and Japan and an E-1 (2 Mbps) or E-3 (34 Mbps) line elsewhere. This is still a popular product for customers with smaller bandwidth requirements or fewer sites.
Synchronous Digital Hierarchy (SDH) and Synchronous Optical Networking (SONET) are the legacy TDM products. SONET is used in the U.S. and Canada and SDH in the rest of the world.
They are sold for larger bandwidth private lines and can be provided as a linear connection, or more typically as a full-circuit protected service that includes a redundant diverse line for restoration.
Dense wavelength division multiplexing (DWDM) is a product that is more typically seen in the wholesale carrier market, since it is currently sold primarily as 10 Gbps (or larger) point-to-point connections.
Some enterprise customers with very large bandwidth needs (for example, a headquarters needing to connect to a backup or data center) may choose this product. DWDM is typically sold as a linear or unprotected product.
When a 10G wave is protected, it would be sold as an STM-64/OC-192 SDH/SONET line. Also falling into this category is Ethernet over DWDM (EoDWDM) which is simply a DWDM wavelength with an Ethernet interface.
Some carriers allow customers to purchase incremental capacity. For example, a customer could purchase a GigE that is delivered over a 10G DWDM wavelength. In some cases, retail customers can purchase a full 10GigE private line circuit.


This analysis was pulled from our Cloud and WAN Research Service.
Download the free executive summary to keep reading.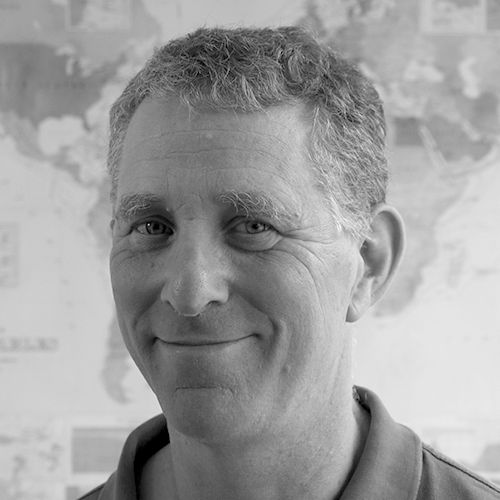 Paul Brodsky is a Senior Research Manager at TeleGeography. He is part of the network, internet, cloud, and voice research team. His regional expertise includes Europe, Africa, and the Middle East.