Approaching a decade since SD-WAN emerged as a networking technology, it is safe to say nearly all corporate network managers have at least heard of SD-WAN.
The COVID-19 pandemic forced IT infrastructure teams to accommodate remote work and accelerated the shift to cloud services. These changes in the underlay shifted the cybersecurity threat landscape and drove SD-WAN vendors and customers to focus more on security than ever before.
SD-WAN is becoming more complex, integrating SASE architectures and improving services to meet the needs of the WAN world.
When we first asked our WAN Manager Survey respondents about SD-WAN in 2018, interest was high, but few respondents had installed the technology or begun the rollout process.
Over the past four years, early adopters who finished their deployments have started to assess the impact, and more enterprises than ever are in the rollout stage. We've looked at the enterprise SD-WAN market every two years to see what has changed and solidified.
SD-WAN Adoption
We expected relatively fast growth for SD-WAN over the past several years, and if anything, thought COVID would mostly increase demand–which it certainly has.
However, while the number of enterprises deploying SD-WAN has increased since 2020, installation percentages are lower than expected due to long rollout phases.
This year, 47% of respondents have installed SD-WAN while 86% are in some stage of adopting the technology.
This year, 47% of respondents have installed SD-WAN, while 86% are in some stage of adopting the technology.
In the past two survey editions, we made a note that many of our survey takers might have been more proactive or forward-thinking WAN managers compared to the universe of enterprises. We'd like to emphasize this again, although we do believe this to be reflective of where the rest of the market is heading.
The time series figure below notes key shifts of where respondents were in the process of researching and adopting SD-WAN in 2018, 2020, and 2022.
Stage of Adoption of SD-WAN (2018 vs. 2020 vs. 2022)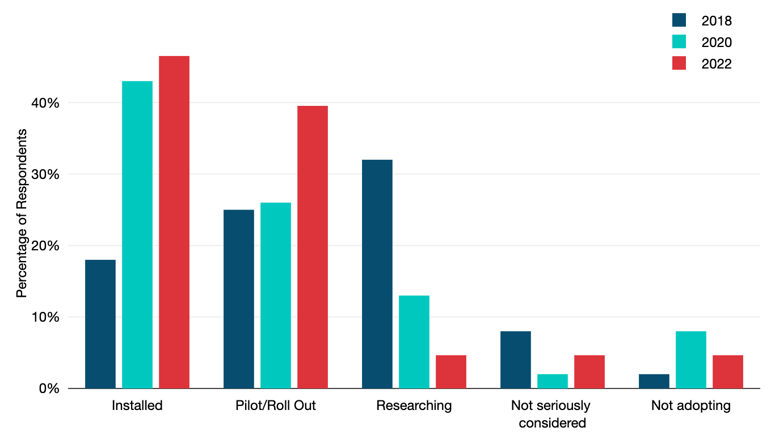 Notes: Each bar demonstrates the percentage of all valid respondents in 2022, 2020, and 2018 who are in each stage of SD-WAN adoption. Source: © 2023 TeleGeography
This year, the SD-WAN installation rate is at 47% of respondents, versus 43% in 2020 and 18% in 2018. This marks an almost 30-point increase since our first survey. Within the Installed category, we included any company that had SD-WAN on at least part of their network.
The percentage of respondents in the Pilot/Roll Out phase has increased by 14%, indicating that more enterprises in the researching phase have decided to adopt and are now in the process of rolling the service out.

A minority of respondents—only 5%—indicated they were not adopting SD-WAN. One WAN manager in the Business Services industry said they were not adopting SD-WAN because they already have their own VNF setup.
It has become clear that rolling out SD-WAN is not as fast and easy as it once appeared.
What best describes the amount of time it took you to fully deploy SD-WAN on your network? (2022)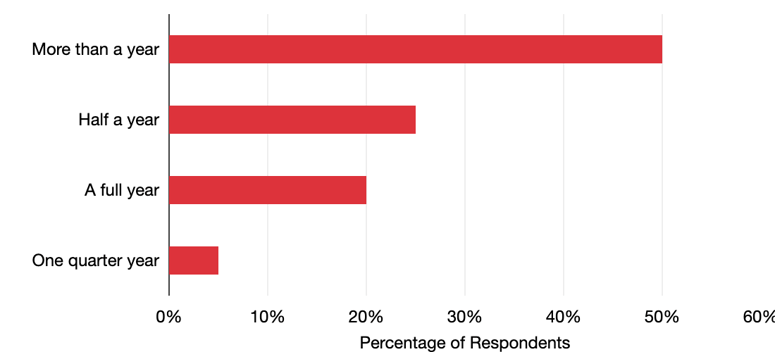 Notes: Each bar demonstrates the percentage of respondents who indicated it took that amount of time to fully deploy SD-WAN on their network in 2022. Source: © 2023 TeleGeography
Almost three-quarters of respondents reported that their SD-WAN rollout took at least a year, of which, 50% said deployment took more than a year.
The initial marketing for SD-WAN surrounded the ability to cut network spending "in half." For some, that promise remains attractive, but the ability to create a more agile, flexible, optimized network without increasing costs has emerged as a powerful motivator for adopting SD-WAN.
We asked respondents to rank the factors in considering or adopting SD-WAN on a scale from one to five, where one is not at all important and five is extremely important.
Reasons for Adopting SD-WAN (2022)


Notes: Each bar demonstrates the average rank respondents from 2022 who are at least considering SD-WAN up to have already installed it assigned to the given factor in terms of importance in making their decision to adopt the technology. Source: © 2023 TeleGeography
The factor with the highest average rank was to improve performance. Not far behind: to increase site capacity.

This year, all factors we provided as options were, on average, ranked at least three and a half out of five.
SD-WAN Management Levels
The spectrum of carrier involvement in a managed SD-WAN service differs by the service provider and the package chosen.
It can range from a carrier-provided unmanaged SD-WAN overlay (similar to what you would get directly from an SD-WAN vendor) to a fully managed carrier service where a provider handles installation, ongoing support of deployment, and policy implementation.
In the middle, you find co-managed SD-WAN services where a provider handles deployment and management, but an enterprise can view network analytics, add applications, and establish policies through their customer portal.
Level of SD-WAN Management Selected/Plan to Select (2022)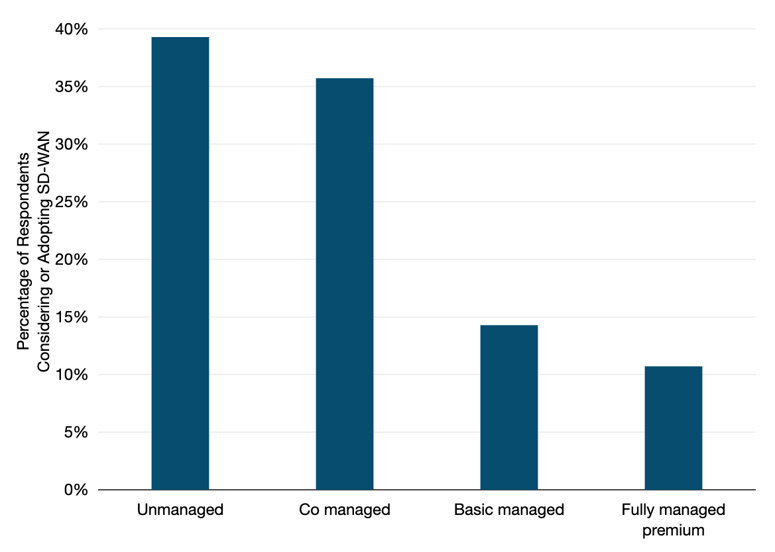 Notes: Each bar represents the percentage of respondents considering or adopting SD-WAN that have planned or chosen that management plan in 2022. Source: © 2023 TeleGeography
Unmanaged plans were the most popular configuration amongst our respondents (39%), followed closely by co-managed plans (36%), then basic managed or fully managed.
The trends of SD-WAN management plans have shifted, and we expect they will continue to as more enterprises research and adopt SD-WAN.
Co-managed options are popular—especially with enterprises that have a smaller IT infrastructure team and need to outsource some capabilities, but have the skill and desire to maintain some control.
---
This analysis was pulled from our latest WAN Manager Survey—which now includes data collected throughout 2022.
Download the full executive summary to keep reading.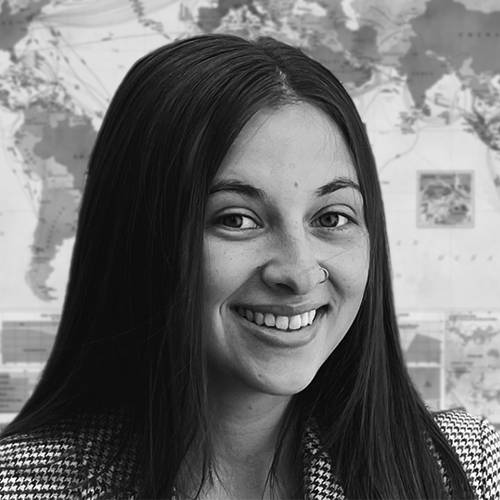 Mei Harrison is a Junior Research Analyst at TeleGeography. She is part of the enterprise team and her research is focused on WAN.