Fact: Before 2009, only 16 African countries were connected to a submarine cable system. Since then, 26 cable systems have been deployed to connect the region.
In 2016, submarine cable capacity reached 33 countries, and seven sub-saharan countries have access to three or more systems. (Three coastal countries have yet to be connected by a submarine cable system – Eritrea, Guinea Bissau, and Western Sahara.)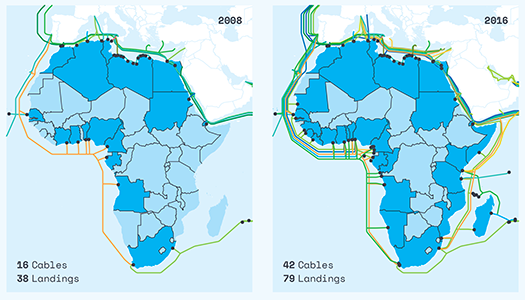 While the Eastern Africa Submarine System boosted East Africa's connectivity in 2010, it was the African Coast to Europe and West Africa Cable Systems that truly brought the continent into a new age of connectivity in 2012.

While there is still little intra-North African connectivity, with most traffic from North Africa sent directly to Europe, issues of transport, transit pricing, and latency in Sub Saharan Africa are truly on the up, with new capacity and intra-African buildout plans.

You can see what connectivity looks like in Africa today -- including in-service cables, planned cables, and landing stations -- in TeleGeography's 2017 Africa Telecommunications Map, sponsored by Angola Cables.