It turns out that birthday celebrations are in order.
The latest update of our Global Internet Geography research—which you can read up on here and here and here—marked our twentieth year of internet statistics and commentary.
Ah, yes. "Internet statistics and commentary"—that's exactly how we billed the first edition of this report, published under the name Packet Geography in 2002. We even dug up a hard copy to wax nostalgic: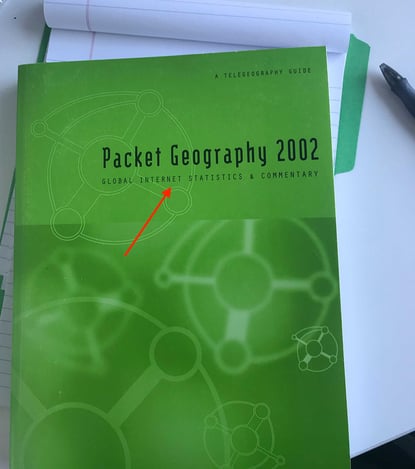 But it's not just the name of our research that has changed. The global internet itself has evolved and grown and shifted over the last 20 years. Here's how we opened this report two decades ago:
Once regarded as a playground for researchers and hobbyists, the Internet has become a critical element of the public communications infrastructure. Internet diffusion is occurring at different rates in different locales, however. Packet Geography 2002 offers international Internet deployment as a way of tracking that diffusion, looking at how much Internet bandwidth has been provisioned where and by whom.
As a whole, international Internet bandwidth deployments slowed in 2001. International Internet backbones registered a combined 174 percent growth rate in 2001 that, while significant, was only half of 2000's 382 percent increase. Much of the 2001 growth is accounted for by Latin America, which turned in a 480 percent increase for a compound annual rate of 290 percent between 1999 and 2001—a greater increase than even Europe's.
Today's headline?
Well, we're no longer in triple-digit growth. But the internet continues to expand. Global internet bandwidth rose by 29% in 2021, a return to "normal" over the previous year's COVID-driven surge of 34%. And you might have seen our earlier posts announcing that Africa again experienced the most rapid growth of international internet bandwidth, growing at a compound annual rate of 45% between 2017 and 2021. (Oceania sits just behind Africa, rising at a 38% compound annual rate during the same period.)
For another example of the changing times, here's a look at our first graphic on inter-regional internet bandwidth. (Note that all figures are measured in Mbps.)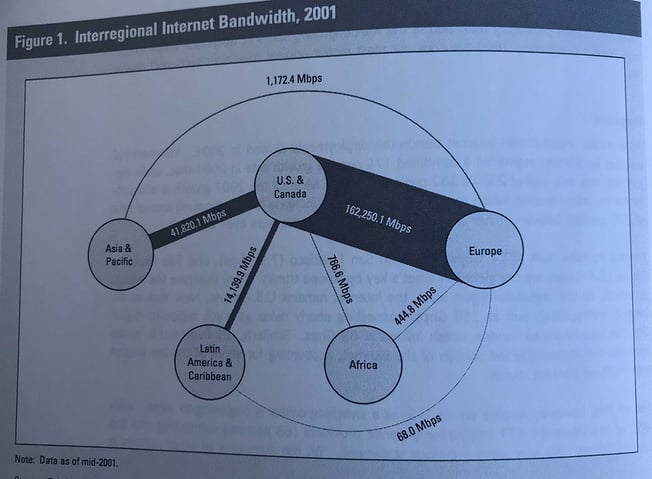 Here's what this same graphic looks like in 2021: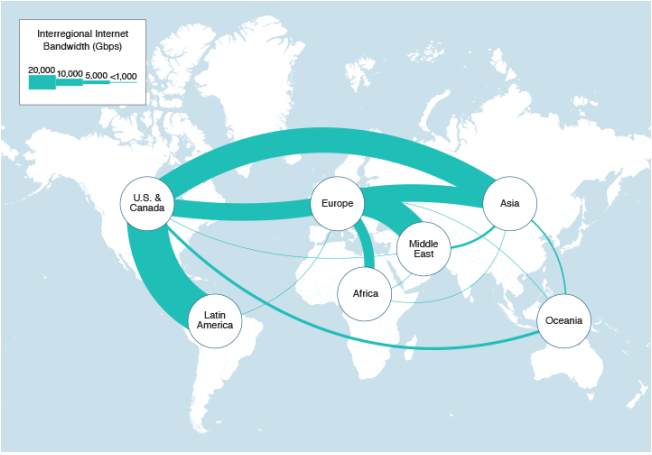 Not only are our reports in color now, but the figures you see in this image have graduated to Gbps.
One thing has remained consistent: our fascination with the global internet and the ever-changing landscape of the global bandwidth market.
We'll leave you with some parting thoughts from our original report:
At the international level, packet geography is in a state of flux. There are a handful of mature markets where substantial IP infrastructure has been in place for years. In other markets, however, the Internet is still taking shape.
The Internet was once treated matter-of-factly as a U.S.-centric network. The data in this book suggests this is no longer the whole story. Three-forths of Europe's international Internet bandwidth connects European countries at both ends. In every other region except Africa, interregional bandwidth has been the fastest-growing segment of total bandwidth, reaching nearly a fifth in Asia and well over a tenth in Latin America—not much, perhaps, but five-fold what it was in 2000.
In other words, the Internet's geographic diversity is growing.