Hello and welcome to the third entry in our series about wargaming WAN configuration scenarios. We've made it to the MPLS-broadband edition!
Before we continue: if you haven't read the previous entries where I introduce our hypothetical WAN and then add local internet breakouts with DIA, it probably makes sense to do that before you dive into this one. (This scenario mirrors our last, but replaces DIA with ISP-sourced business broadband.)
All caught up? Good. Let's do some WAN benchmarking.
Why Would Anyone Choose Business Broadband?
Our previous post listed the many reasons that companies might be moving toward local (rather than centralized) internet breakouts. And in that scenario we assumed enterprises were doing this with carrier-grade, SLA-enhanced DIA.
When considering broadband, there are some important caveats to consider:
Using broadband might cost more in IT team overhead to source and manage from a wide variety of local ISPs in many languages.
Business broadband generally comes with no SLAs or guarantees.
Business broadband is usually a contended service.
Business broadband is often an asymmetrical service.
Smaller ISPs are likely handing off your traffic to an IP transit provider almost immediately, so your traffic might have many hops and you likely have little visibility into how it travels.
Customers accustomed to having a large spend, and thus considerable clout, with their carrier might be disappointed to discover that buying a handful of circuits doesn't get them much attention during outages or service issues.
So why would anyone choose broadband instead of DIA?
Well, given these factors, broadband should be much cheaper...and it is. Our data shows that at the same port/circuit size, broadband is consistently priced at a ≥90% discount over MPLS plus access, compared to often a 20-40% typical discount for DIA plus access, or around 60-70% discounts for on-net DIA.
If you can tolerate the downsides to business broadband, at least for some portion of your traffic, it could allow you to add local internet breakouts and even radically increase the bandwidth available at your sites for very little additional cost.
If you can tolerate the downsides to business broadband, at least for some portion of your traffic, it could allow you to add local internet breakouts and even radically increase the bandwidth available at your sites for very little additional cost.
Because it is a contended service, business broadband users might not get their advertised speeds at peak times, and dropped packets or poor service won't be compensated with SLA credits. However, many SaaS applications were born as consumer software and have been developed and optimized to operate in a best-efforts internet environment, especially given sufficient bandwidth.
Creating an MPLS-Business Broadband Hybrid
Some WAN managers might want to at least consider adding local internet with business broadband. We created an MPLS-broadband hybrid WAN to test costs for this type of network.
The changes to this network from the original MPLS hypothetical are similar to our MPLS-DIA hybrid:
We kept the shifted MPLS VPN CoS levels to 30/50/20.
We also kept the smaller MPLS ports and added in broadband circuits of at least the original MPLS port size, or sometimes more where higher capacity plans were available.
Most broadband links fall in the 11-50 Mbps category and most MPLS links that are kept at the 140 original MPLS sites are in the 5-10 Mbps range.
We switched MPLS ports above 100 Mbps to DIA, as those sites were too critical for broadband and often very high capacity broadband plans are harder to come by, even in downtown areas.
We kept all MPLS backups and redundant access lines.
How Did We Change Capacity Ranges from the Original MPLS WAN?
Original MPLS WAN Site Capacity Range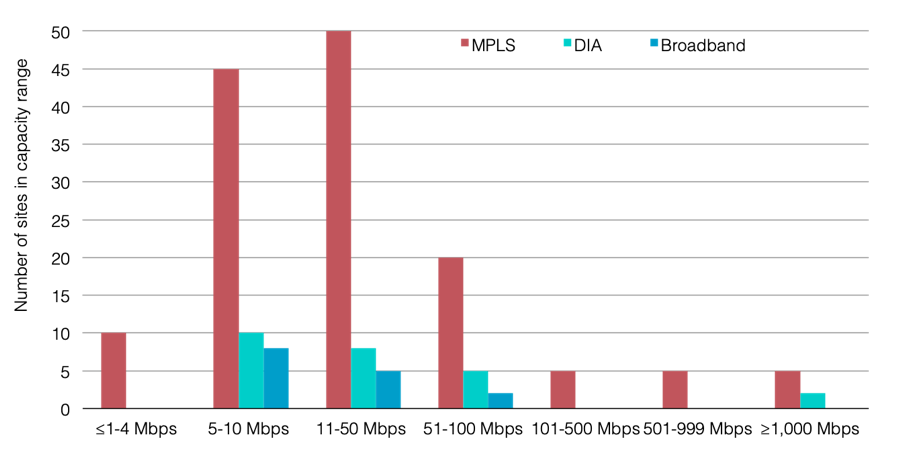 MPLS-Broadband Hybrid WAN Site Capacity Range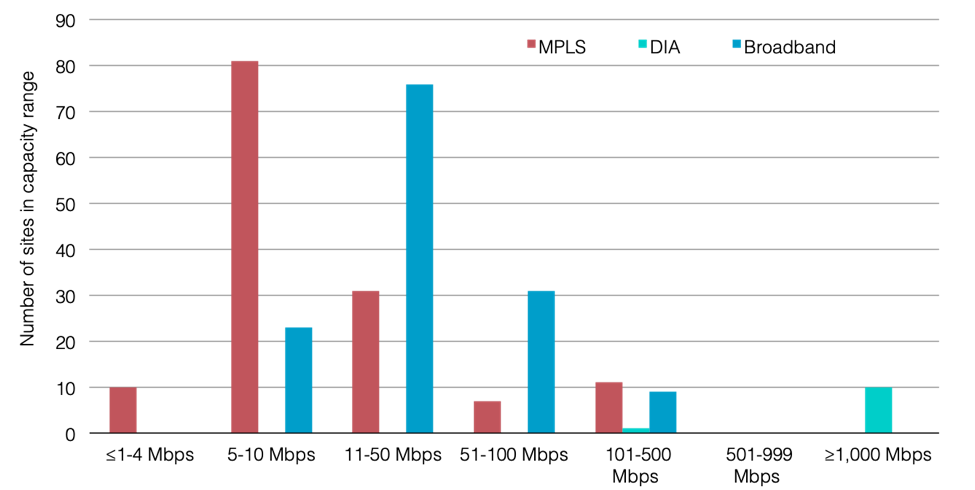 The average available capacity at each site went up in all subregions, but, again, particularly in those that are home to larger offices or data centers. The resulting global average site capacity is 311 Mbps, which is about 2.5 times the original MPLS network.
How Does Average Site Capacity Change by Subregion?
MPLS-Broadband Hybrid WANs Average Total Site Capacity by Subregion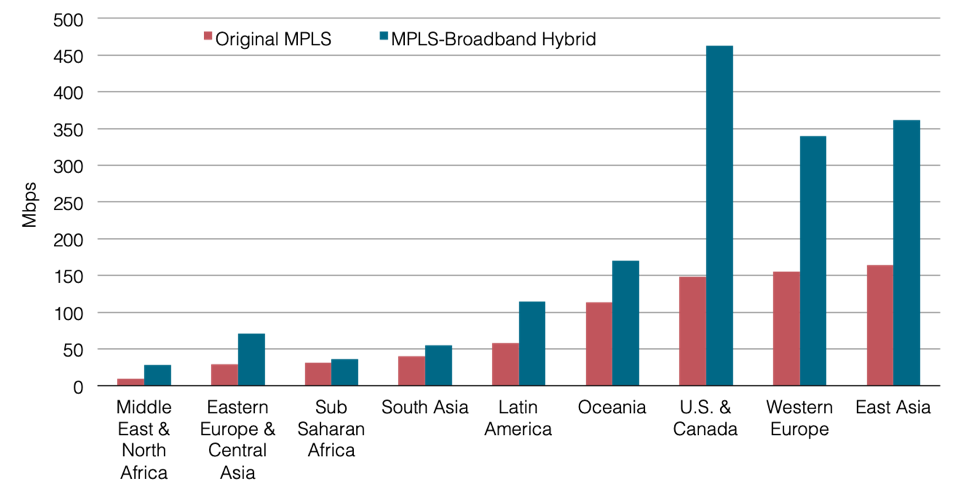 Comparing Network Costs
The MPLS-broadband hybrid is cheaper than the original MPLS, despite having increased available capacity 2.5 times. However, it might be somewhat surprising that it's only 2% cheaper.
How Does Adding Capacity With Broadband Affect the Total Cost of Ownership?
Original MPLS and MPLS Broadband Hybrid WANs Annual TCOs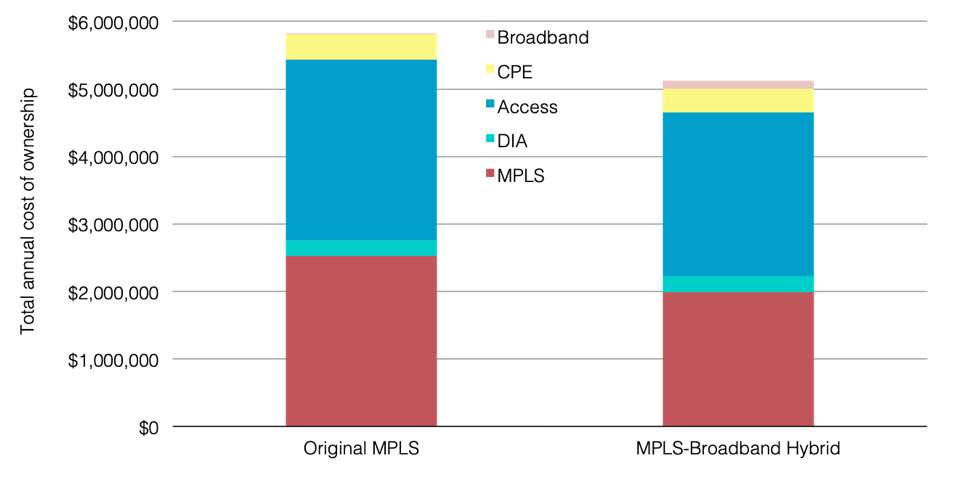 While adding capacity with internet is cost effective, keeping MPLS with backups in the network can hinder goals of lowering costs.
In the next post we're going to look at dropping expensive MPLS backups after adopting SD-WAN.
Next up: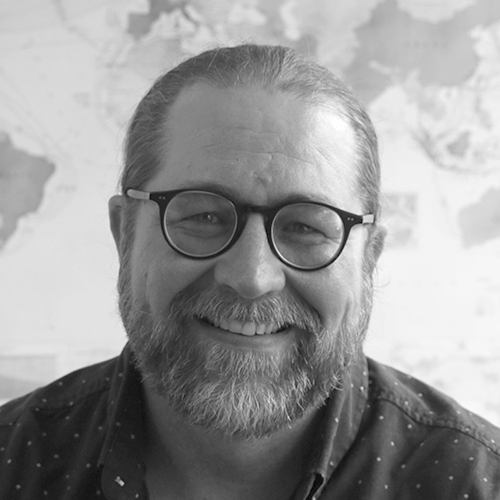 Greg is Senior Manager, Enterprise Research at TeleGeography. He's spent the last decade and a half at TeleGeography developing many of our pricing products and reports about enterprise networks. He is a frequent speaker at conferences about corporate wide area networks and enterprise telecom services. He also hosts the WAN Manager Podcast.