With a few short weeks left in the year, today we're looking back at our most-read pieces of 2018.
This year you were clicking on all things 5G, anything about the future of submarine cables, and lots of cloud content. Below are 10 of our favorite posts, perhaps including some you might have missed over the last 12 months.
5G or Bust
In March 2017 the international standards body 3GPP agreed on an accelerated schedule for the development of 5G technology in unlicensed spectrum bands.
This prompted much conversation about potential launch dates for next-generation services. All of our CommsUpdate subscribers know–there were 5G specs and trial networks and spectrum auctions. There were license disputes and strategy consultations.
So, indeed, 2018 continued this conversation on 5G, with no shortage of headlines.
It's no surprise that you ate up our series on spectrum auctions around the globe. Your favorite regional breakdowns included:
Just Tell Me About the Cables, Please
Our blog readers love a good submarine cable story, and we're here to oblige.
In 2018 you read about the announcement of new cables like Curie and Dunant. You followed the continued cable boom in Latin America and watched content providers' growing demand for international bandwidth.
These were some of your most-read stories of the year:
Cloud Patterns
Enterprise network managers have a wide array of service providers to choose from for a dedicated cloud connection service.
While enterprises can set up a link directly with a cloud provider, more frequently a third-party—such as a carrier, colocation provider, or connectivity specialist—is used. Selection of a provider often depends on the location of the enterprise WAN in relation to the cloud providers' zones or data centers.
It's against this backdrop that we wrote about trends in cloud and data center usage this year. This is what our readers were most interested in:
Also, Maps
True story: the 2018 blog post most devoured by our readers was our 2018 submarine cable map announcement. (Can't blame you. It's an exciting time of the year.)
With that in mind, it's worth reminding everyone that we've slashed the price of this beauty. You can now get a copy for $100. Even better, if you order before December 14, you can get a free 2018 Middle East map with your purchase.
And keep your eyes peeled, map lovers. We've got a new design coming in early 2019.
Don't Miss Any Posts Next Year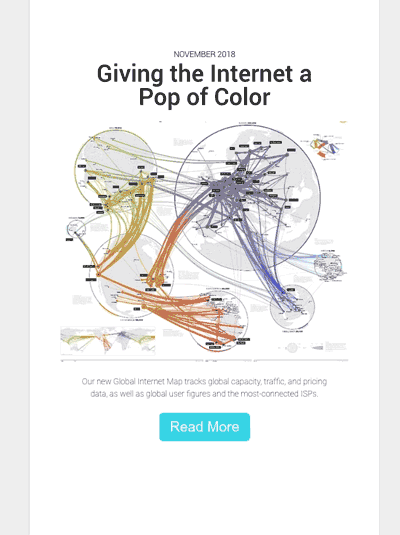 Sign up for our monthly newsletter to read our top blog posts, get discounts on telecom conference registrations, and read exclusive interviews with our experts.
Submit your email address here to start getting the good stuff in your inbox.